April is World Autism Month. To shed some light on autism and how it affects the lives of so many, I've put together a list of five important things to remember about Autism.
Autism normally sets in during young childhood years and can put increasing stress on parents to take care of their young children. It is more common for boys to be diagnosed with autism than girls, typically four out of five children diagnosed with autism are of the male gender. It is common for parents to have trouble showing love and compassion towards their children with the autistic condition as most do not like being touched and will pull away if their parent tries to kiss or hug them.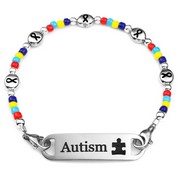 2. GI distress is highly common for those with the autism condition, as it is presently known to affect 85% of persons with autism. Common gastrointestinal issues are chronic constipation, irritable bowel syndrome and chronic diarrhea. The pain caused by these GI problems can lead for the person with autism to self-soothe with behaviors such as rocking or they can cause aggressive behaviors which lead to self-injury. Many parents of children with autism will order custom engraved autism alert bracelets which give medical personnel and caretakers specific information relative to their autism and GI disorder tendencies so as to understand how to properly treat them.
3. Communication difficulties are typically common for persons with autism. They may latch on to a single word in a sentence and repeat it over and over. It's normal for them to not be able to form understandable sentences verbally. Many have the inability to detect sarcasm when presented with it and so they interpret communications from others differently than intended. They also struggle with understanding body language which again leads to challenges with communicating.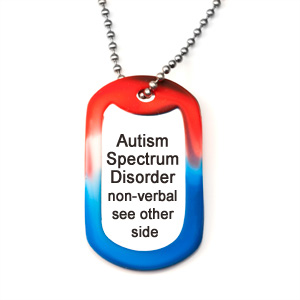 4. Many people with autism live with hypersensitivity issues as well. Some triggers to hypersensitivity they may experience are difficulty with wearing clothing, being touched by people and textures or simply being in a room with normal lighting.
5. Pica is also symptomatic of persons with autism. Pica is the tendency to eat items which are not food such as chalk or clay or even paint chips. Pica can lead to dangerous increases in lead levels in the body, so persons with this disorder should have their blood levels tested regularly to see if there is an elevation of lead.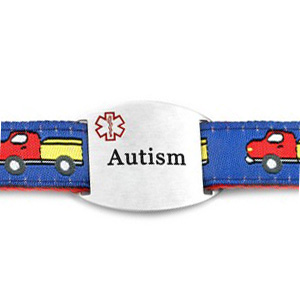 At StickyJMedical, we feel that it is of the utmost importance for persons diagnosed with autism to wear medical alert jewelry for their safety and assistance. We have an amazing line of autism jewelry for children and adults which can be custom engraved with specific instructions relative to the individual's autism disorder and associated other behavioral and physical issues. Be sure to shop our site today to find an autism medical ID product which is best for you or your loved one.