Why shop at StickyJ?
Because StickyJ is simply the best! Best Quality, Best Customer Service, and absolutely the Best Prices.
About 6 months ago we here at StickyJ were looking at different stats, numbers, and as always: how we can make buying personalized and medical jewelry easier for you. We decided that, aside from our impeccable jewelry quality and sincerest employees, our price sets us apart from the rest. Earlier this year even GOOGLE recognized how great StickyJ is by officially making us a Google trusted store! Read more on that here. We know that when you have a medical condition, the last thing you need is to be spending a ridiculous amount of money on your medical alert bracelets or dog tags.
StickyJ has been a staple of medical alert jewelry in the medical community for nearly 2 decades! We've worked to help support Child Rescue Network, JDRF (Juvenile Diabetes Research), CARD Autism student group, BCRF (Breast Cancer Research Foundation), and numerous ALF's and hospitals; just to name a few causes close to our heart. Keeping yourself safe by wearing medical jewelry shouldn't cost a fortune or distract from your awesome personal style. Sticky Jewelry lets you keep up with the latest fashion trends all while having your medical information on you in case of an emergency!
We are pretty confident that we ALREADY beat our competitors. But if you can prove us wrong, we will give you the best price. Don't believe me yet? Let's do a little price shopping!
To the BAT-MOBILE! …or just keep scrolling down.
-Looking for a fun girl's medical alert bracelet?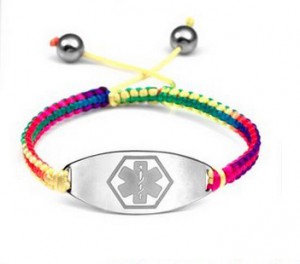 StickyJ offers an adorably fun macrame bracelet that has lots of color variations for plaque and strand. The durable stainless steel tag can be engraved on the back with her information.
StickyJ price: $15.95; we've seen competitors pricing a similar bracelet at $44.95.
–Beaded medical bracelets are all the rage now! Find an elegant and classy bead bracelet that gives you subtle safety with perfect style.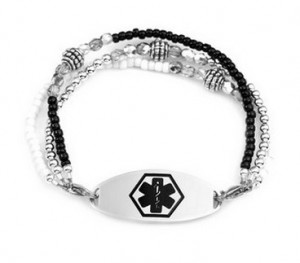 Our triple strand beaded bracelet is the Little Black Dress of medical id bracelets you've been looking for. Dress it up or down, and it matches everything!
StickyJ price: $41.95; a similar beaded bracelet can cost $59.95 elsewhere.
-Natural materials keep you grounded and stylish! Choose a Leather Medical Bracelet for men, kids, or women!
For the last 5 or more years, one of our most popular bracelets has been our leather and hemp medical alert bracelets. With so many different leather and hemp color combinations, it will be hard not to find the one perfect for you.
For almost the exact same bracelets, some companies want you to pay $29.99 and more, StickyJ's price: $14.95!
-Not a bracelet person? We've got you covered with medical ID dog tags and medical alert necklaces!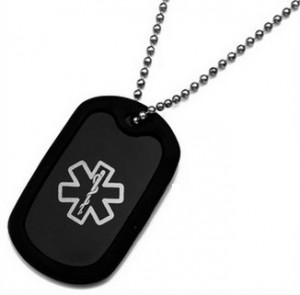 We have new aluminum dog tags with bead chains, in lots of different options. Colored dog tags with matching colored silencers or mix and match your favorite. Check out our Dog Tag page to see our other caduceus symbol for a more modern look.
StickyJ price: $14.95, competitors price: $21.95.
Some women don't want to advertise their condition or feel branded. StickyJ offers a beautiful stainless steel medical alert pendant that is so modern and subtle, you'll forget it could save your life. The medical identification for the necklace is an elegant caduceus symbol charm that dangles on the front.
StickyJ price: $19.95, this pendant could be found elsewhere on sale for $32.95.
Having It YOUR Way.
When you are looking at prices, don't forget to include the engraving price. Medical Jewelry is so much more important and helpful to medical staff when they are saving your life if it is personalized. StickyJ offers engraving for only $6.95/side. That includes your choice of black laser or etched traditional engraving.
Don't pay an ADDITIONAL $7 for 'black-filled' when you can choose StickyJ's long lasting laser engraving (not even offered at many competitors) for FREE.
The 6.95 is our flat rate. We don't charge for every line if you have a lot to say – say it! Why should you have to pay more if you have multiple medical conditions?
We are proud of our product, our prices, and our mission!
Classy, Stylish, top quality medical jewelry at affordable prices to keep you safe in an emergency. Want to put our Price Match Guarantee to the test? Read our details below and follow the link for the specifics!
Details:
Our Low Price Guarantee covers one price match per identical item, per customer on an item you've purchased from Sticky Jewelry. The price comparison to be made must be between products with identical engraving.
The Low Price Guarantee does not cover unadvertised promotions, nor does it cover items that may have been discounted by us subsequent to the date you made your purchase. In other words, the price we're being asked to match must be readily available to the public, and it must be a price that was offered by a competitor on the date you made your purchase.
A Price Match must be requested within 30 days of the date you originally purchased the item from Sticky Jewelry.
Want even more savings on the best medical jewelry? Join our Email to get exclusive sales, deals of the day, birthday coupons, and sneak peeks of upcoming jewelry. We also have some pretty great jokes. Friend us on Facebook for daily jokes, inspirational posts, tips, and social sales.
Happy Shopping, Happy Savings! At StickyJ.