By far my favorite holiday is Halloween. I love all the scary fun activities, dressing up, and of course – the candy. Watching the little kiddos in my life trick-or-treat is the best part of all! I get to experience all of their excitement; it's like being a kid again.
I'm not naive though, and the danger to kids on this best holiday ever is very real. We've put our favorite tips for child safety this Halloween together. The best way to have fun is to be safe. So let the fun begin:
1 The Comfy Three
When it comes to choosing the right costume, just KISS (keep it simple silly). Costume comfort and fit can make or break your happy Halloween night. Costume, shoes, and candy bag should have easy to hold handles.
If the bag get too heavy for little hands, parents can bring back-packs or wagons for the extra goodies.
2 Be Seen
Make sure your little ones stand out this year, literally. Add fun reflective tape, glow-in-the-dark elements (like paint or jewelry), or including lights / flashlights into the costume to keep kids visible.
3 No Tears Formula
Trick or treat + candy – scary = happy kiddos. Skip scary houses or walking paths that have things jumping out to let everyone stay happy this Halloween. This benefits you too, since you won't have to deal with the nightmares later! The earlier the better to start the night's activities this Halloween. An early start and timely wrap up can reduce the chance of over-stimulation of overly-tired crankiness.
4 Houston There's No Problem
Make sure kiddos have gone potty before setting off and no one is hungry to avoid early candy eating…or asking strangers to use their restroom. The more comfortable the kids are, the less complaining you have to hear! When the kids don't snack on candy along the way, there's less of a chance they will have sugar-highs and crashes.
No early candy policy could save a life for kids with allergies. Eating before inspection can be very dangerous.
5 Have a "How-to-Halloween" Talk
Etiquette is an important, but sometimes overlooked aspect of Halloween. Go over what to say for younger kids: saying trick or treat at the door and please & thank you after candy. For the older trick-or-treaters, reminding them not to push or race to houses and to let little ones go first makes for a pleasant Halloween experience for everyone.
6 Safety is Key
For most parents, the worst fear is a lost child in a busy situation with lots of strangers (like theme parks, busy malls, or Halloween night). It's dark, everyone is in costume, and a crazy amount of people are outside. Go over the rules and what to do if your kids get separated.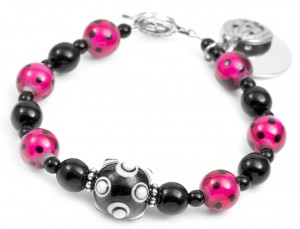 ID Jewelry – wear a necklace, bracelet, or key-chain with their name, your contact info, and any medical information that may be necessary.
Create a fun game before Halloween night to help little ones who can memorize your phone number. Using a song, matching game, or story are all great ways to create memories.
If they are separated and don't see you from right where they're standing- don't run around looking for the group. Find the closest group of kids with Moms; they will be all too happy to help.
One of the most important rules in my opinion is to stay out of the road. There are crazy inattentive drivers out this night. Keep away from the street but stay in the light.
Once everyone is back at home base, parents should inspect the candy before letting the kids go to town. Check that goodies are not expired, clean, wrappers aren't damaged, and the candy doesn't contain any allergens.
Myself and the rest of StickyJ hope that everyone has so much fun this Halloween, it's scary. Share your family's favorite safety routines for this happy holiday.