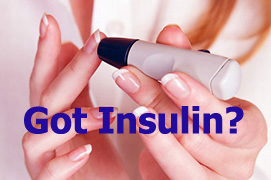 Were you or anyone you know recently diagnosed with Diabetes? Diabetes Type 1 or Diabetes Type 2 can be incredibly challenging conditions to face daily. They lead to a variety of medical issues which can cause unease in day to day activities. Perhaps you were diagnosed as a child or have known for a few years now that you are Diabetic, but have not taken the time or were not able to afford the proper medical care and safety items for your condition. If this sounds like you, but you are now ready and able to move forward with getting yourself the proper care and medical safety items you require, then we suggest you browse our Diabetic jewelry collection to find yourself a Diabetes Alert bracelet or necklace to fit your unique needs.
If you're insulin dependent, that is very important, life-saving information for an emergency first responder to see straight away and it should be engraved clearly on your medical alert bracelet or medical alert necklace.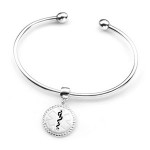 At StickyJ Medical, we've custom designed several Diabetes bracelets and other Diabetic jewelry such as pre-engraved pendants, medical id tags and dog tags to be worn for safety purposes. We've made sure to include a variety of styles which include gold, sterling silver, stainless steel and leather materials. This way your Diabetes alert jewelry can be paired with any outfit for any occasion.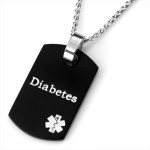 Some of our most popular Diabetes bracelets are our sports strap bracelets which come with Diabetes pre-engraved by our laser on the front of a brushed steel medical ID tag. The back of this ID tag allows for a customized engraving of additional Diabetic alert details. These bracelets are an excellent choice for men, women, and children, plus they're comfortable and come with reflective stitching for enhanced night safety, hence their popularity. Another great benefit to these bracelets is that they're adjustable and they utilize a velcro closure.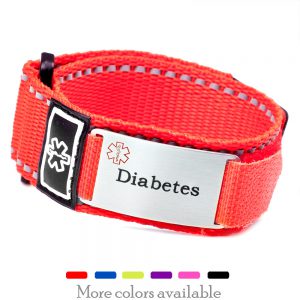 Diabetic jewelry is a must have these days to ensure the utmost safety for anyone with Diabetes. Shop StickyJ Medical ID today and find life-saving, yet fashionable medical alert jewelry for you and your loved ones.