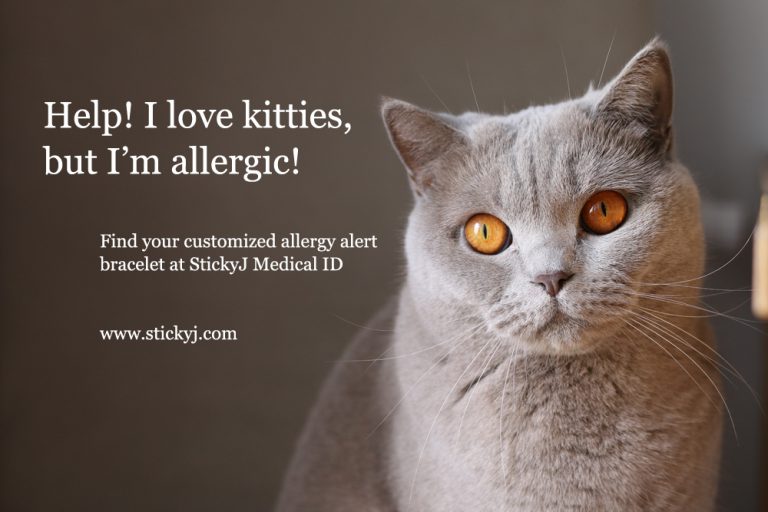 As a child, I remember talking to my peers and discussing what we were allergic to. It was a fun and perfectly natural conversation to have as a kid. We thought it was an exciting way to learn about one another and always took the time to ooh and aah over the kid that had what seemed to be the most unusual allergy.
Over time, allergies have increased and expanded into a variety of areas. Some persons are allergic to specific insect bites such as bees. While others have extreme allergic reactions to various foods; quite commonly shellfish. Environmental allergies have also become rather rampant as of recent –affecting the population and demographic of all ages.
At StickyJ Medical ID, we always put safety first and feel that an allergy bracelet is a helpful tool that any person with an allergic condition should strongly consider wearing. For this very reason, we have created an entire collection of allergy bracelets which can be customized with emergency instructions relative to specific allergic conditions.
One of our most popular allergy bracelets is our customizable silicon alert bracelet. This bracelet has room to add buttons which have been custom tailored to indicate an allergen such as gluten, eggs, soy, dairy and more. The buttons are colorful and have a nice aesthetic, plus the silicon material is durable and easy to clean making them an excellent choice for children.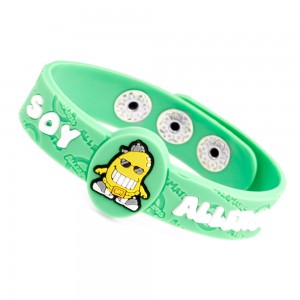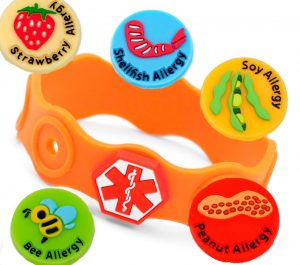 For adults with allergies who are perhaps looking for a more stylish allergy alert bracelet, we carry a wide range of medical ID bracelets which can be customized with engraving to indicate an allergy. Choose from sterling silver bangles to gold charm bracelets to leather and more. We carry a selection of medical ID tags which come pre-engraved with the word allergies on the front, but the back has additional space to add specific emergency contact details and instructions if need be.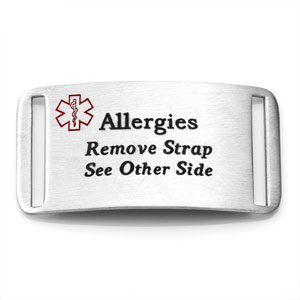 Always feel confident in your safety no matter the situation with an allergy bracelet by StickyJ Medical ID.