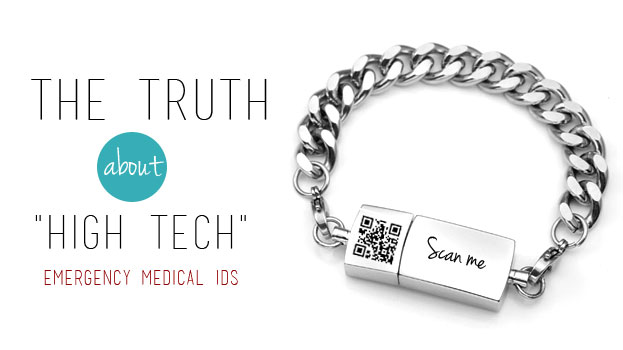 High tech emergency medical ID jewelry has no place in a true emergency, but can be useful once the patient has been stabilized.
Today Sticky Jewelry will shed some light on a new emergency medical ID jewelry product that has been created in various forms, that states that your medical information can be found with a "click, scan or call" and accessed "within seconds". While these statements could be true, the unfortunate reality is that smartphone scans and phone calls simply aren't used as part of emergency medical responder protocol yet.
"We were initially very excited about these products and immediately began to do our research," said Lori Torman, CEO of Sticky Jewelry. "Unfortunately, after simply contacting our local emergency medical response unit, we realized that these items could be very misleading and are not typically utilized in emergency situations. Sticky Jewelry will not be offering this type of emergency medical ID jewelry until we are certain that medical responders will use it, and we haven't found any that currently do. If you already have one of these items, consider having both an engraved item and a high-tech item. The safety of our customers will always be our top priority".
Here is a recent interview with Acting Lieutenant Paramedic Dominic Bueller of the Madeira Beach Fire Department who graciously answered all of our questions:
Sticky Jewelry: Hi Dominic, there are quite a few emergency medical ID jewelry items that have been created recently that are claiming to provide a patient's entire medical history immediately to Emergency Medical Responders via QR code scan, barcode scan, or a phone call. What are your thoughts on these items?
Dominic: Well my initial response is that it's just not feasible. Currently, we don't have the technology or system in place on the truck, the system would have to be purchased countywide and that hasn't happened yet. We also don't have time to call a phone number and don't want to rely on a service signal or internet signal on phones to be able to help someone, especially if they're critical. We just don't have time. If they're not critical, we can usually ask them to tell us what's going on.
SJ: You mentioned that the trucks are not yet outfitted with the proper technology, however, many of these items can be scanned with smartphones. What are your thoughts on that?
DB: First of all, we don't always have our phones on us, and we certainly aren't required to have smartphones. Some units aren't even allowed to have their phones with them on the truck, period. But let's say we did have our own phones, the odds that we will pull them out while wearing thick gloves covered in who-knows-what fluid is truthfully pretty low. I'd rather work on making sure there's a solid airway so they can breathe. I can easily check their wrist or necklace to get an idea of what's going on. The other issue is that many of these require various apps that the responder would have to download or already have downloaded. Technology just isn't reliable enough yet. Having a clearly engraved or lasered jewelry item with the main disease or medical issue is much more helpful to us. I can see how the "changeability" of the information within the scanned bracelets is appealing, however, the main health issue doesn't usually change. It's the medications that change. In my opinion, the safest route is to wear your emergency medical ID bracelet with the main health issue, disease, or diagnosis clearly engraved on it. If medications are important, simply engrave "SEE WALLET CARD" and keep an updated list in there of all of your medications right next to your ID. We are much more likely to quickly pull a list out of your wallet than to download an app on our phone and scan your ID. The high-tech bracelet could be scanned at the hospital, however, once the patient arrives there. Then the extensive medical history is useful.
SJ: How do you feel about "USB" medical IDs?
DB: They're definitely better because it's likely that a hospital will use it once the patient arrives there. However, this would only be for use once a patient is stabilized and in a hospital. It wouldn't be used in a critical emergency situation.
A big thank you to Dominic Bueller of Madeira Beach Fire Dept. for taking the time to speak with us! We hope this helped our loyal customers to understand why we choose not to carry these techy medical IDs at this time, despite multiple inquiries. We don't want any customers wrongly assuming that they are for emergencies. As soon as we are confident that this type of jewelry will keep you safe in an emergency situation, you will find it available at Sticky Jewelry! We called multiple emergency response units to ask whether or not they are able to use or check these new tech IDs, and they all said they aren't equipped to handle them at this time. If you're still unsure, find out who your local emergency care provider is and give them a call to ask these questions yourself!