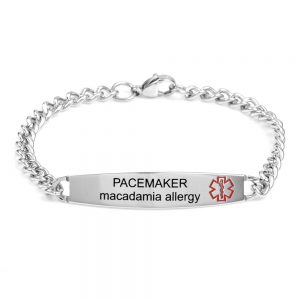 How fast will my order ship?
We ship all engraved medical jewelry orders within two to three business days (M-F) from when the order is placed. So, an order that's received on a Monday will ship on or before Thursday of the same week. Then it's simply a matter of what shipping method is selected to get it from us to you.
Many personalization companies take much longer since the engraving is outsourced to a third party. Some have a standard turnaround time of 10 days to two weeks, and those same companies charge an extra fee to engrave your order within the same three-day time-frame that's standard at StickyJ Medical ID.
For customers who need their order engraved and shipped the next day, we offer expedited engraving service in combination with either UPS overnight or UPS 2nd day air shipping. The charge for expedited engraving service is $10 plus the cost of the UPS shipping method selected. If a customer needs his or her bracelet right away, no one can beat our turnaround time. An 'expedited' order with UPS Overnight shipping that's received on a Monday will be engraved and shipped on Tuesday and will be delivered to the customer on Wednesday. It's guaranteed, or the shipping and expediting are free!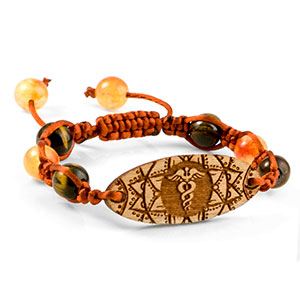 What about quality?
If you compare our traditional link bracelets to the ones most often sold in pharmacies and online stores, you can see the difference. We offer more styles of medical bracelets and pendants, and you'll notice that the links on our medical bracelets are connected directly to the engravable plaque. Many bracelet manufacturers use jump rings, which can grow weak over time, and which detract from the bracelet's overall appearance.
Our sports strap medical ID bracelets are built to be rugged, yet good-looking. They're made of fade-resistant nylon and polyester, and they're hand-washable. Our "snap lock" clasp is ideal for younger children. It fastens the bracelet securely, making it difficult for a young child to remove it. And, our pre-engraved and engravable 316L surgical stainless steel plaques slide easily onto the strap so that you can purchase one plaque with several straps to provide the wearer with more variety.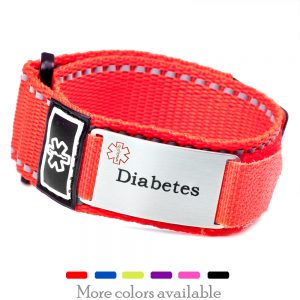 What about style?
StickyJ Medical ID offers traditional styles, but we also offer stylish medical alert bracelet and pendant options for children and adults. Included in these styles are beaded wrap bracelets, soft leathers, rose gold bangles, silver bar bracelets, gold bar necklaces, custom medical dog tags and much more.
What type of medical conditions warrants the wearing of medical jewelry?
The most common conditions that necessitate wearing a medical bracelet are Diabetes, Asthma, Epilepsy, Autism, Alzheimer's, Dementia, ADD/ADHD, Heart Disease, Blood Thinners, Allergies to food and drugs, Insect Allergies, Anemia, Blood Disorders, Hearing or Sight Impairment, Hypertension, Ankylosing Spondylitis, Cystic Fibrosis, Kidney Failure, Emphysema, Parkinson's and most rare diseases. Medical jewelry is also recommended for transplant patients, persons with special needs and those who are mentally disabled.
To be continued…