What type of information should I engrave on my medical ID?
First and foremost, be sure to include your diagnosis and any allergies. If you're taking any prescription drugs that could affect emergency treatment, they should be listed. And, if there's still room, it's wise to include an emergency phone number and your name. Any information that doesn't fit on your medical jewelry can be included on the wallet card that's provided, but the most important information needs to be on the medical jewelry itself since that's what the EMT will see first.
Summarize your condition with short, descriptive words since space is limited. We highly recommend you speak with your physician if you are unsure about what to engrave. If you have a lot of information, we suggest you consider purchasing one of our medical ID tags that slide onto our sports strap medical alert bracelets, since these items can accommodate more engraving. The medical emergency symbol should also appear on the front of all medical alert bracelets, pendants and charms to help alert the emergency medical personnel that more information is available.
What are the benefits of wearing medical jewelry?
If you're unable to speak, a medical bracelet or pendant may save your life. By providing your emergency medical information when and where it's most needed, you may prevent misdiagnosis and improper treatment. A medical ID speeds the administration of treatment and lowers the risk of medical errors.
What type of engraving do you offer for medical jewelry?
We offer black laser engraving on nearly all of our medical alert bracelets, pendants, and charms. We highly recommended black laser engraving for medical jewelry so the bracelet or pendant's inscription can be read more easily in a medical emergency.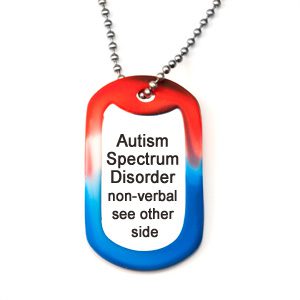 How long does it take to get my medical jewelry?
The normal processing time for orders is 3 business days (business days are Monday through Friday). So, if your order is received on a Monday, for example, it will be engraved and shipped by Thursday. If the order is received on a Friday, it will be engraved and shipped by Wednesday of the following week. If you need a faster turnaround, we offer expedited "next day" service for just $10 additional.
What does it cost to engrave my medical ID?
Our standard engraving charge per side of a medical alert bracelet, medical charm, or medical pendant is just $7.95 per side.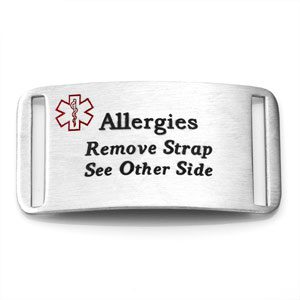 Do you offer bulk medical jewelry purchases?
Many of the medical jewelry options we provide can be purchased in bulk and we will be able to offer you a discounted price for doing so. For quantities equalling more than ten items, please contact our marketing department by sending an email to marketing@stickyj.com.
Hopefully, you've gained much insight from these three continued blog posts which covered a variety of FAQ's relative to medical alert jewelry. To find a medical ID that is best for you, shop our site soon!