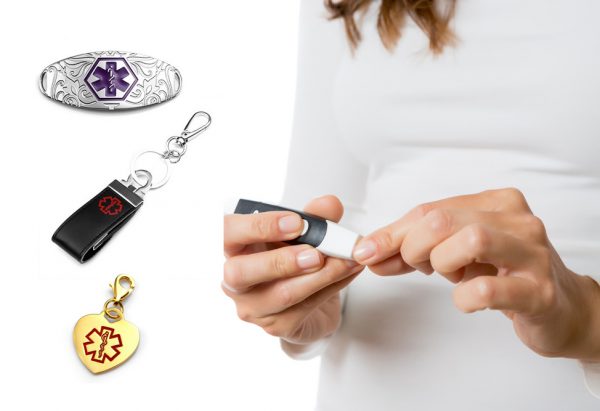 Medical items or medical alert accessories as we at StickyJMedical commonly refer to them are excellent additions to already existing or new medical items such as medical alert necklaces, medical bracelets and more.
We offer a unique variety of medical alert accessories to fit many styles and safety needs. One of our most popular selling items is our Squid ID product. This product is made with our polished steel medical alert dog tag and comes with a custom QR code which can be scanned so as to retrieve a person's full chart of medical details online.
We also offer a fantastic selection of medical charms which can be customized with medical engraving and then added to either a charm bracelet or a necklace or even an anklet if you prefer. These charms are offered in varying shapes such as hearts, ovals, and circles. Engraving can be performed with both our laser and traditional etching methods.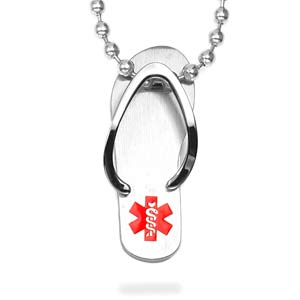 Another great medical item we have in our medical accessories collection are our USB products. We offer a lovely leather engravable USB key chain. Medical details can be laser engraved directly onto the leather exterior by us and the USB can store additional medical alert details and instructions.
Medical tags are our most popular of medical accessories. We have a huge collection of medical ID tags to offer for men and for women. Most of these tags can be attached to our beaded and wrap style medical bracelets for her. Just last month, we added a large selection of new steel medical id tags which allow for medical engraving on the back. They come in an assortment of colors and all offer a lovely floral pattern with the medical alert symbol in the center. This provides a look that is fashionable, while still giving the safety a person needs in a medical alert bracelet.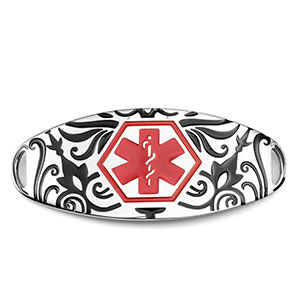 Visit our site today and find a unique medical accessory to create custom medical jewelry to fit all of your medical safety needs.