Each year it seems that we're hearing and seeing more and more children with food allergies. There appears to be an increase in the number of children with food allergies and thus more research is being done to determine if this is true and if so, why. In the meantime, StickyJ Medical ID has put together a helpful list on how to keep kids with food allergies safe.
First and foremost, get your child properly tested for allergies by a professional doctor
If you suspect that your child has food allergies, the first thing to do is to take your child to an allergy specialist for testing, because food allergies can be fatal in some cases. It's smart to make a list of all the symptoms your child experiences when eating a meal and then let the doctor know. Doctors will typically do a skin test first where they make contact with a child's skin and potential allergens. If a skin test cannot be performed, doctors will do a blood test which will then take a few days to retrieve the results. Once the doctor has confirmed that your child has a food allergy, then you can take your child's safety to the next steps.
2. Send them into public with an allergy bracelet
The next step in your child's allergy safety is to purchase them an allergy bracelet. There are many online retailers which sell a variety of allergy bracelets. StickyJ Medical ID sells allergy bracelets for children and adults in many colors and materials. StickyJ Medical ID offers custom engraving on their allergy bracelets to enable parents to indicate exactly what food allergy their child has and the action to take if their child is exposed to the allergen. Many of StickyJ Medical ID's allergy bracelets come with medical tags that can be engraved with multiple lines of text on the front and back sides.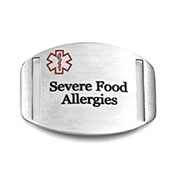 3. Educate them about their food allergy
One of the most important things you can to do to help ensure the safety of your kid is to educate them. Make sure that they know what their allergen tastes like, looks like, what it is typically cooked with and what it smells like. Depending on the age of your child, teach them as much about their food allergy as possible and in addition to teaching them, it's a smart idea to educate their friends, family members, teachers and any other person that spends time with them.
4. Teach your children to cook
Take your child's allergy education one step further by teaching them to cook as well. If they know the basics of cooking it'll be helpful so that they can prepare foods for themselves that are allergy free.
5. If an EpiPen applies, get your child one and teach them how to take care of it.
Consider purchasing an EpiPen for your kid to use in case of an emergency. Make sure that they keep it with them whenever you are unable to be around them. It's a good idea to add a mention of it to their allergy alert bracelet.
Your child's safety is never something to be slack about or to procrastinate. Do your research, make sure you have them tested by a professional, educate them and purchase items which aid in their safety such as allergy bracelets and Epipens.