Medical ID's are simple, affordable items that can save a life, but that doesn't mean that children always want to wear them. Fortunately, medical alert jewelry has come a long way in terms of style over the last few years, and there are now many fun, colorful styles for kids to choose from. But what if your child still doesn't want to wear their medical alert bracelet? Whether you child has a chronic medical condition, severe allergies, or medication, It's up to you as the parent to inspire your child to wear their medical ID so that it's available when the time comes.
One way you can do this is through leading by example. That is, if you also have a medical ID, wear it all the time. Let your child see you wearing your medical identification often and let them know that you don't mind having to wear it. If you don't wear a medical ID, there are other ways to inspire your child to wear their medical alert jewelry. A lot of companies (including Sticky Jewelry) offer non-medical versions of their medical ID jewelry. That way, you can motivate your child by wearing the same bracelet as them. Another option is to simply let the child pick out the medical ID they want. If they are able to pick out a fun medical alert bracelet or necklace that they like it's more likely that they'll want to wear it.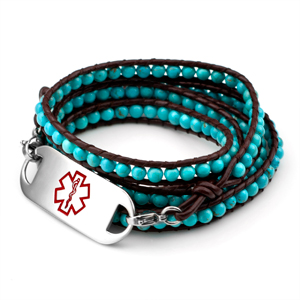 Identification Bracelets
Standard children's ID bracelets are typically engraved with a parent's phone number, and other important contact information e.g. another family member's name and phone number. Children's ID bracelets can be invaluable at large venues, such as a theme park or stadium. In addition to our own "If Lost…" plaque, Sticky Jewelry has partnered with the Child Rescue Network in their mission to help return children to their parents as quickly as possible. Click here to learn more about these ID tags and the Child Rescue Network.
Medical Alert Bracelets
Medical alert bracelets for children are typically worn by kids with ongoing medical conditions, in order to provide EMT's (Emergency Medical Technicians) with details about their medical condition in the event of an emergency. Anyone with a medical condition such as diabetes, epilepsy, or autism should consider wearing a medical ID bracelet. It's also important to wear a medical ID if a person has an allergy to certain medication, or if that person is currently taking medication. It's also a good idea for children to wear a medical ID if they are allergic to specific foods or things like bee stings, insect bites, or grass. Even if the child care service your using has your child's allergies and/or medications on file, having that information on the child and visible is very helpful to the activities coordinators taking care of your child.
Choosing an ID Bracelet Style that's Right for Your Kid
Bracelets can sometimes be annoying and cause irritation to kids if they're required to wear them daily. So, whether you're looking to purchase a standard id bracelet for your child, or a medical id bracelet, there are a few options that you should know about.
Leather ID Bracelets
Leather bracelets are a great choice for comfort. If your kid doesn't like to wear the traditional metal-link style id bracelet, you might want to consider purchasing a leather id bracelet instead. Leather ID bracelets also look great. It's been said that leather is always in style, and leather ID bracelets are no exception. We've found that a growing number of kids and teens prefer leather bracelets to traditional metal id bracelets. The downside of leather id bracelets is that they are not meant to be worn in water, and will (in most cases) wear quickly if frequently worn in water.
Sport Strap Bracelets
Another great choice for comfort is the sport strap bracelet. The woven nylon straps are adjustable, and they are generally more comfortable to wear than metal bracelets. Unlike leather bracelets, the sport strap bracelets are water safe, and they can even be washed if they get dirty. The sport strap id bracelets are interchangeable with the several different plaques and come in 21 fun strap designs and colors so you don't have to worry if your child doesn't want to wear the same thing every day.
How to Correctly Size an ID Bracelet for Your Child
Children's wrist sizes vary greatly, so it's very important that you measure your child's wrist before purchasing a bracelet, instead of trying to guess the size. Generally speaking, it's recommended that you purchase a bracelet 1/2″ to 3/4″ larger than your child's actual wrist size. However, certain bracelet styles might have alternative sizing recommendations because of their unique shape, so it's important to read the available information of the bracelet you're going to purchase. Any unique sizing specifications will typically be described on the individual product page, either in the item description or product details sections. Of course, the best option for kids is an id bracelet that has an adjustable strap. Kid's are always growing, and purchasing an adjustable strap can save you from frequently having to spend money on new bracelets. It's also a good idea to take the child's age into account when shopping for a medical alert bracelet; some parents choose bracelets that have a snap-lock clasp instead of a traditional lobster clasp so that their young children cannot easily remove the bracelet. Also, bracelets with plastic snap-lock clasps tend to withstand abuse better than the small metal rings that traditional bracelets use to connect clasps.
Alternatives to ID Bracelets
Whether your child hates wearing bracelets, frequently breaks them or takes them off, or if bracelets simply feel uncomfortable to your child, sometimes ID bracelets just don't work out. Medical ID pendants are a new alternative that seems to be popular with a lot of people, young and old. Wearing a dog tag or a necklace is a reasonable alternative that can provide relief from having to wear a bracelet every day.