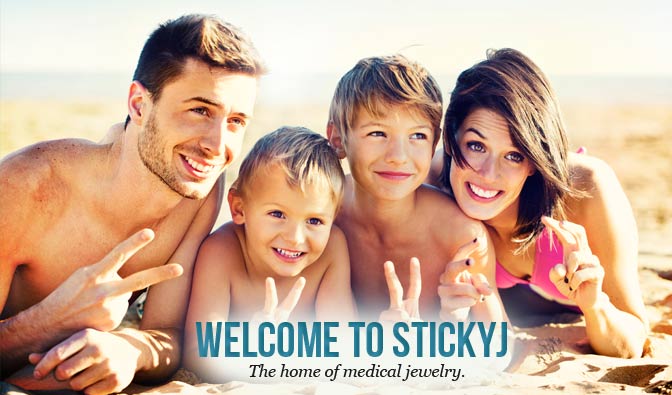 A Letter from the CEO
Welcome to StickyJ.com, the home of medical identification jewelry. I'm Lori Torman, and it's my pleasure to introduce you to the two most highly trusted medical jewelry brands in America; with a combined history of more than 65 years.
The StickyJ brand was designed to provide a fashion-conscious option for those who wear a medical id. It combines trendier styles with classic designs – using the best quality surgical steel and the most reliable permanent engraving systems. StickyJ products are both functional and fun to wear.
The Oneida brand, with its distinctive medical symbol, is where medical id's began. Working with the American Medical Association in the early 1960's, Oneida created the very first medical identification jewelry, and has continued to be the most trusted name in medical id's ever since.
In 2014, these two great brands were merged, bringing the most complete selection of medical id's for adults and children here to StickyJ.com, which is now a website devoted exclusively to medical id jewelry.
If you're a previous customer shopping for custom engraved jewelry, personalized gifts, or corporate logo jewelry, you'll find all of our great products and incredible values at our newest site, Thoughtful Impressions.
Thank you for shopping with us today. And, if there's anything we can do to improve your shopping experience before or after the sale, please let us know. We want to be your favorite place to shop for medical id jewelry now, and in the future.
-Lori Torman
Three's Company
What exactly is happening?
Oneida –> StickyJ –> Thoughtful Impressions
(medical) -> (now: The Home of Medical Jewelry) -> (personalized jewelry / gifts)
A bit of history about Oneida Medical Jewelry:
In Chicago 1963, the American Medical Association met to discuss a need for a way to alert others of a medical condition when a person was unable to communicate. Don and Genny Bennett went to the AMA offices to discuss the details and needs of this program. The couple proceeded to design a medical alert necklace and metal wallet card with a custom-engraved medical symbol. Their company, then known as National Nameplate Co., was included in a national mailing to all U.S. pharmacies. They have sold their products through independent pharmacies ever since, making them one of the first (if not the first) medical ID company!
When Genny passed away last year, her family wanted the business to live on, but felt it best to look to someone else to continue the business. Sticky Jewelry, another family-run company having similar business values and experience in the Personalized and Medical ID Jewelry business for over 14 years, was the perfect fit.
When discussing the merge, our CEO, Lori, was excited to be able to carry on the history of a female lead company! Both of these strong and inventive Women have built Medical Jewelry companies from the ground up. Genny started Oneida's journey before the internet began ; and Lori launched StickyJ when the internet retail industry was just getting started.
We're honored to have the opportunity to continue a tradition started over 50 years ago; a framework that's consistent with our own approach to doing business. We're excited to serve Oneida's previous customers as our own, and aspire to earn their loyalty. We're confident we can win hearts and trust by staying true to our unbeatable Prices, incredible Customer Service, and 3 day turn around that won the 350,000+ orders we've fulfilled as Sticky Jewelry since 2000.
The Home of Medical Jewelry
We are so excited for this merge, and split. Our main goal is to make shopping easy and enjoyable by providing our customers with exactly what they're looking for. We want you to see only what you want and need to without being overwhelmed by unrelated products or information. StickyJ can now become the one stop medical jewelry authority you've been looking for.
The coming together of Oneida and StickyJ provide the best medical identification jewelry on the web. StickyJ is known for our customer service and top quality products. We're always looking for new fashions and trends that make wearing medical jewelry fun and life-saving. Oneida brand brings a deep history and dependability, established over half a century. Keeping Oneida's medical jewelry products means you will always find the classic and still popular, original medical id jewelry.
Specializing in solely medical jewelry gives us the opportunity to focus our information and promotions on the medically specific content you want to hear about. Online retail makes creating personal connections a little challenging. We are not robots; we are people, who may think we're more funny than we are… but who really do care about our customers – you. So when we send emails, run slides on the home page, or post on Facebook – we are talking to you! Now that StickyJ is exclusively medical; we can engage with you about the latest medical developments, healthy recipes, condition/disease awareness sales, and of course, what's new in medical alert jewelry.
The split of Thoughtful Impressions from StickyJ also gives us the ability to focus on expanding our fashion jewelry lines that we can then make into medical jewelry! It's important we are constantly staying ahead and looking for new ways to make wearing such an important piece of jewelry fun and fashionable.
Getting to Gifts
But what about the personalized stuff?! If you are a StickyJ shopper because of our wide selection of engraved jewelry and engraved gifts, you should probably sit down. We are not only putting all of our current personalized jewelry and gifts on to a site that will surely leave an impression, we are expanding our products lines as well as engraving processes!
For years we have offered black laser engraving on metal gifts, traditional etching engraving on metals (especially the finer metals such as sterling and 14K gold), and laser engraving on products including wood and leather. We are opening doors…windows… and anything else that can be, to announce our new engraving styles such as embroidery, sand blasting glass, and typography inspired designs for signs, fabrics, and more!
We're adding products every day to both StickyJ (our Home of Medical Jewelry) and Thoughtful Impressions (Personalized Engraved Jewelry and Gifts). Keep your eyes open for new items, engraving, and sales. If you have any questions don't hesitate to contact us. We still have the best customer service staff you can find!
We hope you are excited and can't wait to start shopping!