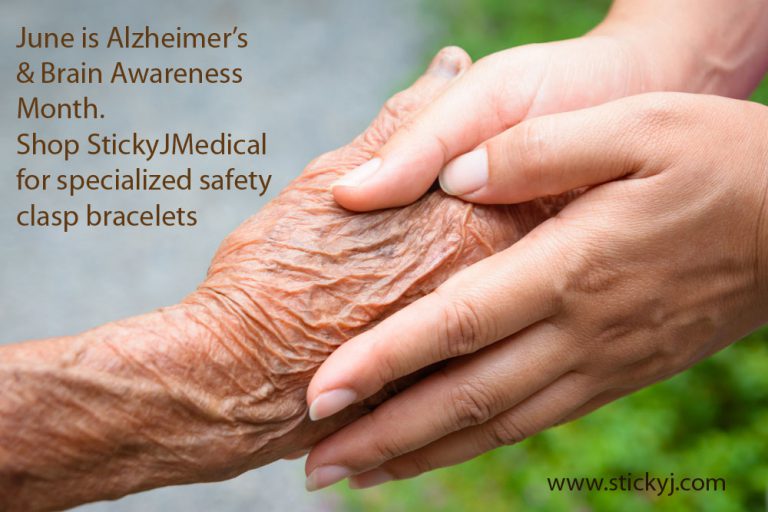 June is the time of year where extra special attention is paid to Alzheimer's and brain related issues by way of Alzheimer's and Brain Awareness month. At StickyJMedical, we implore everyone to take the time to learn more about brain-related illnesses and how they can affect the lives of us all. Learn the basics of the disease. Learn how you can make a difference in the lives of those who have brain conditions. Alzheimer's and dementia can be very difficult and troubling for the persons with the conditions and it can be quite the challenge to provide them with the specialized care and safety they need.
There is still much to be learned about these varying brain diseases and their triggers. Researchers need to continue seeking out and finding healthy solutions for prevention and ongoing treatment.
Although risk factors such as age or genetics cannot be changed, it is suggested that exercise in combination with a healthy diet flush with a variety of fruits, vegetables and fats is one way to assist in preventing or decelerating such brain-related disorders.
Memory loss is a huge component of brain disorders, but in addition, unfortunately, it is common for behavioral issues to come about with brain-related issues. Some of these behavioral problems are: aggression, insomnia, irritability, hallucinations, paranoid delusions and one of the scariest possibilities is wandering.
Wandering leads to the countless silver alerts you'll see posted on the dynamic message signs located on Florida highways. They are a way to tell the public that a person is suspected to be wandering in a vehicle and if you see the car in question, to contact law enforcement straight away.
At StickyJMedical, we actively play a role in helping persons with brain-related illnesses by providing specialized medical alert jewelry which is engraved with Alzheimer's alert or other brain disorder details. Our most popular item for brain disorder alert jewelry is our surgical grade stainless steel safety clasp bracelet. The clasp is made with sister hooks so that the bracelet cannot be taken off by the person with an elopement risk as it requires the use of two hands to put on and to take off. It's become incredibly popular amongst many memory care centers to order bulk quantities of these style bracelets from us for their patients. They typically ask for us to order their facility name on the front and the patient's name and emergency contact details directly on the inside of the bracelet.
Visit our medical jewelry site today and click on the section for Alzheimer's jewelry to find the very best medical safety bracelet for you and your loved ones today.