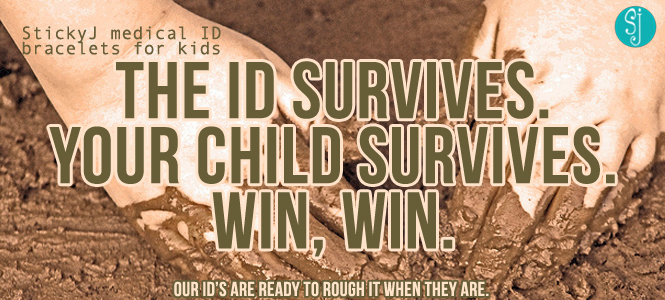 Roughin' It with Medical ID Bracelets for Kids
Each year around 11 million kids pack their bags with labeled clothes and shoes, toothbrush/paste we hope they use, and for many – their medical carrier. Be it equipment or just medicine, sending a kiddo with a medical condition into the care of another…overnight…for multiple days, is a scary scenario. Summer is officially upon us, as is the time to get your little one the perfect medical bracelet.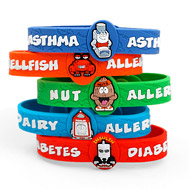 After a long time here at StickyJ, my favorite products to send out are the medical alert bracelets for kids. When we send out the medical bracelet, I know I am working somewhere that keeps people safe. Any child who is awesome enough to want to still enjoy living with a medical condition, deserves a medical bracelet that keeps them safe without making them feel like they stand out.
What should you engrave on your child's Medical Alert Bracelet before they go to camp?
Starting off with a good medical alert tag is the most important step. You want the tag to be durable and large enough to fit all the necessary engraving on. The best medical tag we offer that fits both of those needs (especially for kids away at camp) is our stainless medical ID tag with "SEE OTHER SIDE" on the front. The front red symbol and text have been etched out first before being filled with a permanent clay and baked onto the tag. This is done at our manufacturing site and will withstand anything your active messy kiddo can do to it. The text on the front also leaves the back clear for any medical information you need to engrave with our permanent black laser engraving. We offer 8 lines of 24 characters/line of engraving on the back (if you don't use all of the allotted space, our engravers will center and size it accordingly).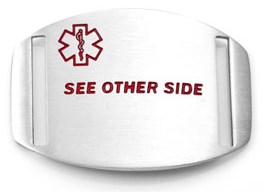 Having your engraving on the back also keeps personal information more private from just anyone looking at the bracelet!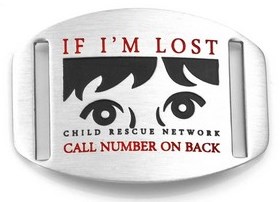 The second best medical tag for kids that we suggest is our Child Rescue Network ID Tag. We have been so happy to partner with this great organization and provide funding for them through our tag sales. This tag also has the extra durable engraving on the front, and our permanent black laser engraving available on the back (6 lines of 15 characters/line).
If you have lots of room to engrave, plus the privacy of back engraving; means you can engrave pretty much anything! The MUST HAVE most important, don't you dare press add to cart without these are:
Line 1: Child's Name – First and Last
Line 2: Child's Medical Conditions
Line 3: Food / Drug Allergies
Line 4: Your Phone Number (include area code! Especially since the camp may be in a different one)
Line 5: A Different Phone Number (include area code)
Use the extra 3 lines in case there are additional allergies or conditions you'd like to add. If you don't need the extra room, don't use it. The fewer characters you have on each line, the larger the 'font' size can be.
We don't suggest wasting engraving on current medications because those frequently change.
In addition to their durability and privacy, the best part of these two medical ID tags is that they are interchangeable with our huge selection of sports straps for kids!
Why does StickyJ love parents who order medical ID bracelets for kids attending summer camp?
You quadruple checked the list for normal camp gear and medical gear and back up the medical gear; then you strapped on a medical alert bracelet to make 99.999% sure your kiddo will be safe.
Communication is key, and you will protect your kid when you aren't even present. Pick a medical alert bracelet that is sure to catch counselor's attention without making the camper feel like a marked 'fish out of water'. Their new friends will just be jealous of such a sweet bracelet and be never the wiser.
Depending on the condition your child has, you've put a lot of thought into this camp. You've booked ahead, potentially paid extra for a child with extra needs. For kids on the spectrum, you may have even done a couple visits to get him or she used to the setting and staff. We here at StickyJ understand that after all that stress, you deserve a little vacation too. By guarding your little-loved one with a medical alert bracelet, you can keep your mind at ease some while they are off having fun! At the very least, having your contact number engraved on the bracelet will knock off half the worry of "did they memorize my phone number?!".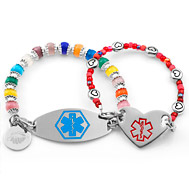 The last reason why we think you are so great for adding 'medical ID bracelets' to your list is…. all of the fun you had with your youngster finding the perfect bracelet to wear this summer. Nearly all of our medical ID jewelry options for kids are waterproof and durable enough for even the roughest youngster! Biggest plus: your little one will love their med ID bracelet so much, they won't want to take it off leaving them protected all summer.
To prevent next summer's Camp Calamity stress, check out these 3 great resources for finding the perfect camp designed just for your child's individual needs.
BrainyCamps hosts condition specific weeks including Tourette's, Epilepsy, Sickle Cell, Diabetes, and Down syndrome.
ParentMap has put together a great list of various Washington based camps for kids on the spectrum, deaf/hard of hearing, with medical challenges (i.e. Cancer/heart problems), and with physical disabilities.
Maria Mora highlights 6 unique and awesome camps across the US for kids with special needs.