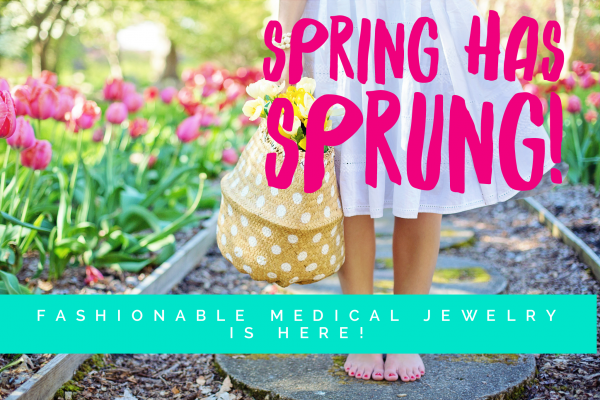 This Spring, coordinate your fabulous wardrobe with safety! Online medical jewelry providers such as StickyJ Medical ID have come up with stylish collections of personalized emergency ID jewelry that's comfortable, affordable and can often time pass for everyday jewelry.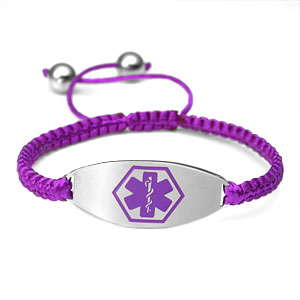 Spring styles that are on trend for 2018 include long length necklaces, mixing of metals, minimalist jewelry, stacked bracelets, rose gold and personalized jewelry choices in light-catching colors!
Rose gold medical bracelets and necklaces have become quite popular over the past few years and pair well with Spring dresses and pastel-colored ensembles.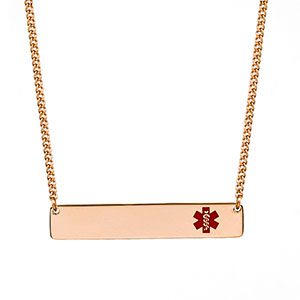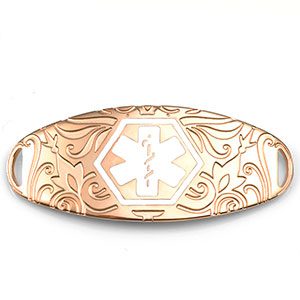 Personalized medical jewelry is one of the top choices in health safety accessories. Medical alert jewelry engravers can typically engrave in two styles – laser and traditional etch engraving. If you're looking for your medical jewelry to last, you're better off going with laser engraving, because it burns into the metal and leaves a lasting mark. If you're ordering a rose gold medical ID bracelet, the laser marking will appear as a black mark. If you select a darker colored metal, the laser engraving may look white against it.
Aluminum medical dog tags come in many colors including purple, pink, blue, red and green and laser engraving creates a solid, legible white mark against them. These attractive Spring colors are the perfect jewelry choice to accompany the colorful tulips and other beautiful flower blooms of the season.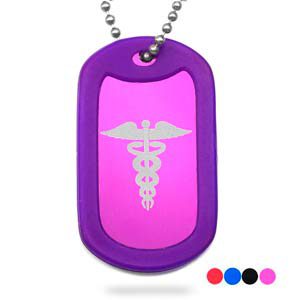 Engraved medical jewelry makes for a great Easter basket gift goodie as well due to its size, it's uniqueness and it's versatility to be used for safety and style. StickyJ Medical ID suggests ordering medical ID bracelets for your child with allergies or another health condition that are cute and come with fun patterns including flowers, butterflies, and sports to be hidden in your child's Easter basket this year! Your kids will love them and will be thrilled to show off their new safety jewelry to all their friends and classmates.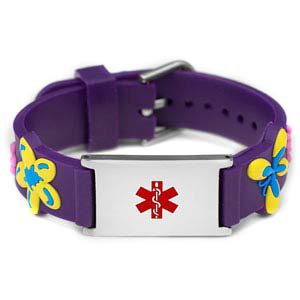 Men have Spring medical alert jewelry options too. Leather stacked medical bracelets look modern and stylish paired with suits, tailored shirts, ties and daily casual wear. A sports strap medical ID bracelet fits comfortably and can be worn for outdoor excursions and workouts.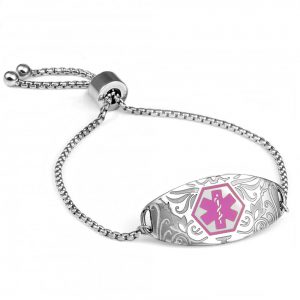 Spring's almost sprung; bring in the season with fabulous medical jewelry accessories in pastels, metals, and florals for a fabulous look everyone will love!