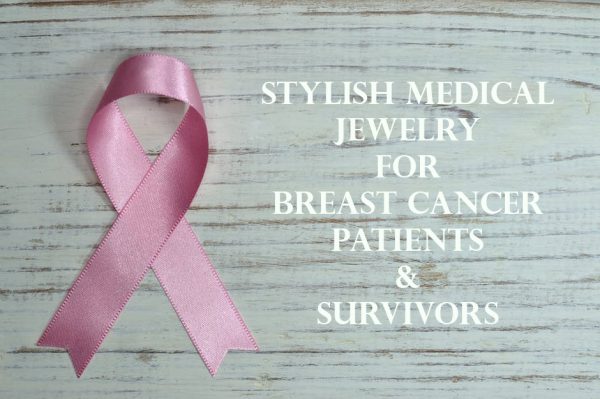 We've all made it to the final stretch of 2017 and just like that, the holidays are just around the corner! But, in the middle of all the holiday cheer comes a time to focus on those who are near and dear to us. We're talking about Breast Cancer Awareness month which takes place throughout this month of October. At StickyJ Medical ID, we advocate the sharing and additional awareness brought to breast cancer via breast cancer awareness month, but we also feel that it's necessary to support it year round. Because of this, we always keep in stock a collection of stylish medical jewelry designed specifically for breast cancer patients and survivors.
For those who want a bracelet that is durable and easy to maintain, we suggest our pink silicone medical alert bracelets which come with two surgical grade stainless steel medical tags. One of the tags is used to engrave your specific medical condition, medicines you take, allergies, emergency contact info and more. The second medical tag comes with one of our pre-engraved inspirational sayings. For example, "Cancer — Life Altering But Not Defining" or "I Can-Cer-Vive". We've customized a great collection of these pre-engraved tags, but always encourage our customer's to add their own personal style to their engravings as well.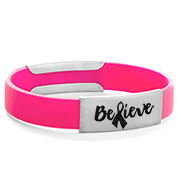 Another great medical bracelet option for cancer patients is our pink leather ID bracelets which come with a pink ribbon and pink medical alert symbol charms. The medical tag can be engraved front and back with your cancer treatment details. This bracelet is great because it's comfortable, adjustable and it looks cute on.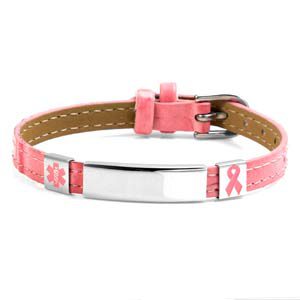 Lymphedema is a common side effect associated with breast cancer patients due to the removal of lymph nodes during cancer treatments. This causes swelling in the arms and legs, so it's important to wear a bracelet to indicate this very important detail to medical staff and first responders. Lymphedema alert can be engraved on just about all of our medical alert bracelets for women.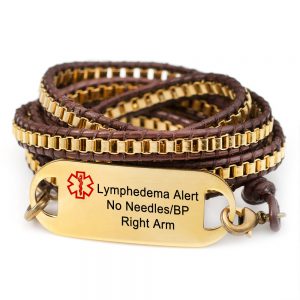 Breast cancer is challenging enough without having to worry that when an emergency situation arises, you're not able to communicate your special needs to medical personnel. Our custom breast cancer medical bracelets can do that for you. Visit our site today and find a great breast cancer medical bracelet that you'll appreciate for years to come.