Medical Jewelry for Young Women
Medical jewelry popularity is on the rise! Unfortunately, in conjunction with this, medical issues for young women are also on the rise.
Some of the major health concerns that are currently affecting young women are Lupus, Type 2 Diabetes, Myasthenia Gravis, Dysmenorrhea, Depression, Anxiety, Food Allergies, Breast Cancer, ADHD, PTSD, Chron's Disease, and Epilepsy.
If you have a medical condition, it's beneficial to wear a medical bracelet to speak to first responders just in case you become unable to communicate for yourself. For example, if you have food allergies and you have an allergic reaction, you'll need to be able to tell first responders of your condition so they know how to properly administer help to you.
Medical jewelry is being made these days to satisfy the needs of men, women, and kids of all ages. If you're a 20 something single girl that needs a medical ID to wear on a night out on the town, there are stylish medical bracelets and necklaces that'll look great with your LBD (little black dress). Stackable leather medical bracelets or rose gold minimalist jewelry choices are excellent options for young women with health conditions. In most cases, these medical ID's can be engraved on both the front and back sides to indicate your medical condition and emergency contact info, plus any medicines you take or require, should a problem occur.
No more are the days of thick, heavy, ugly, barely legible medical bracelets made only with stainless steel that fit the styles of 60 years ago. Nowadays, medical jewelry is comfortable, its lightweight, it's elegant and with modern laser engraving, the medical alert jewelry can be customized so that it's easy to read without being overbearing. Online medical jewelry stores like StickyJ Medical ID sell medical ID jewelry in gold, sterling silver, leather, and more that's affordable and fashionable.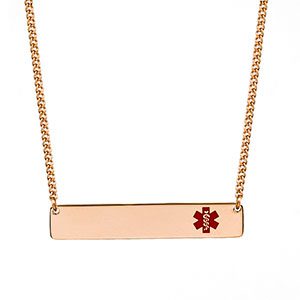 Mix and match medical alert bracelets are popular selections for young women because they let you choose a few different looks to go with your day to night to weekend wardrobes. These custom bracelets let you choose differing medical tags in various colors, patterns, and shapes to attach to interchangeable bracelets.
If you're a young woman, with a medical condition, make sure you put your safety first, order yourself a stylish medical ID that you'll actually be excited to wear!