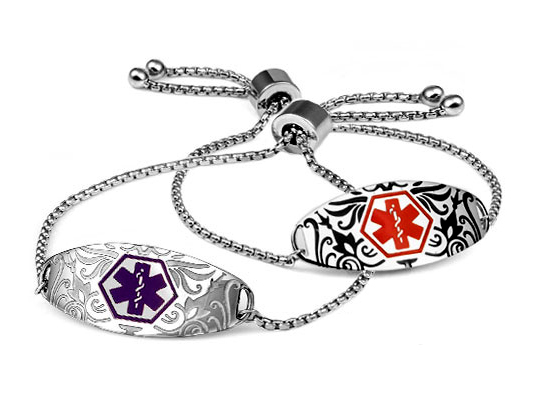 At StickyJMedical, we're always looking for new ways to bring amazing products forth for our customers which are stylish, but at the same time–they still provide you with the medical safety a person needs. As of today, we've launched a brand-new line of elegant floral patterned medical id tags which can be attached to a large array of our already existing bracelets, but we've also included some new easy on off adjustable styles for you as well.
These plaques are all surgical grade stainless steel, so they're not going to corrode over time and you can be sure that they'll stand up against environmental elements. Because they are steel, they can be engraved with both our black laser method or our traditional colorless etching method. Both options of engraving are the same cost. Each plaque allows for up to four lines of engraving on the back, so it leaves ample room for plenty of medical details such as a person's medical condition, the medication they take, plus their emergency contact info. For those persons with lots of medical details they need to list, we recommend having "see wallet card" engraved we also include a complimentary wallet card to hand-write additional medications and conditions.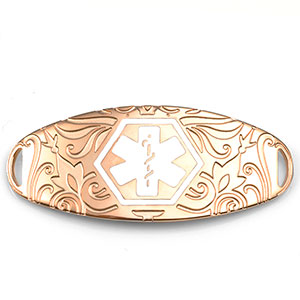 The color choice selections we've included are gold, silver, rose gold, white, red, black, purple and pink! If you browse our beaded bracelets or wrap bracelets pages, you can find a great collection of interchangeable bracelet band choices which will match one of these beautiful new medical id tags. We've pre-assembled many of these plaques with custom adjustable easy on and off style steel bracelets. These bracelets feel comfortable and they look fabulous. We suggest buying a few different plaques so that you can change out your color and adjust your medical alert bracelet to match the kind of outfit you're wearing each day. Shop our medical jewelry site today and find an amazing medical ID bracelet that looks fantastic and works for you!