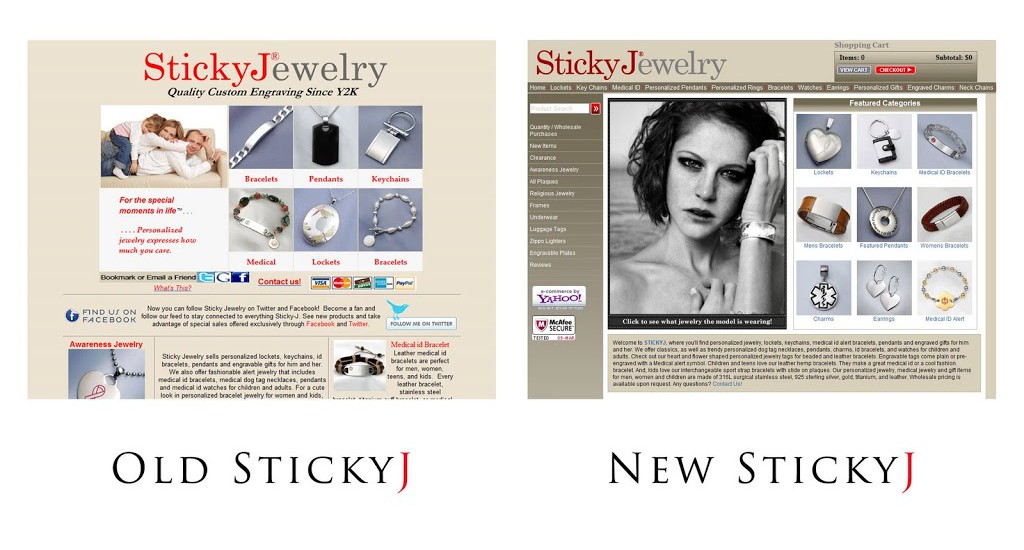 If you haven't visited Sticky Jewelry in a while, then you should. This past weekend, Sticky Jewelry's website designers rolled out the new, long anticipated website redesign. This was much more than just a few cosmetic changes made to the homepage. The site has undergone intensive reconstruction to provide an experience that is altogether more user-friendly for customers. The site is easier to navigate, and purchasing items from the store has been made simpler. Employees here at StickyJ are very excited about the redesign, and we love the new look. New features of the website include:
An improved product search bar
A floating shopping cart (so you don't have to leave the screen you're on to see what's in your cart)
Flyout menu navigation across the top of the page (providing quick, easy navigation to all of our main sections and subsections)
Breadcrumbs navigation (so that you can easily identify and view the pages you visited to get where you are on the site)
Recently viewed items table (displayed on the right-hand side of the page to help you find what you're looking for)
These are just a few of the improvements that have been made to the site. To get the full experience you'll have to visit www.StickyJ.com for yourself and do some shopping.