We here at StickyJ are Pet Lovers!
Our 'furry family' means the world to us. So when potentially rowdy or scary Holidays like Halloween come around, we want the pets to stay safe. We've assembled the best tips around to keep Fluffy and Fido safe this Halloween.
The Basics
1. Comfortable Costume
Who can resist putting their little angel (or demon) into a cute and festive costume. If your pet is going with you to a party or staying in the costume long term, make sure it's comfortable. A costume that's tight, itchy, too elaborate, etc. – may upset your pet and cause pain or anxiety. When you leave, it's time for the costume to come off to prevent overheating or choking.
2. Decoration Disasters
As you hang lights, drape ghosts or zombies, and carve pumpkins your pet sees more opportunities to get into trouble. Wires that run along the floor create temptation and danger for nibbling pets. Little plastic pieces lie around that pose choking hazards. And although non-toxic, pumpkins, decorative corn, or plants can create big time tummy troubles for our little friends.

3. Baby Gates
A too real fear for most pet owners is your little ones escape on a night filled with loud noises and scary costumes (not even going into detail about distracted or intoxicated drivers). If you are having people over or planning on opening the door a lot, make sure you have gates to keep your pet at home. I have two for my beasts. I have a room they can feel safe and alone with a gate, I also have a gate by the front door so that there's no chance they could be accidentally let out.
4. Glow in the Dark or Lit Products & IDENTIFICATION
Whether you have your pets' micro chipped or not, it's important to have a pet ID tag on them with at least your phone number. Many times people will call if they've found an animal, but they may not take it to a vet or the pound.
If you plan to take your pet with you this Halloween it would be in their best interest to make sure they're seen. There are a lot of LED leashes and collars available to keep your festive furry friend safe and lit.
5. No Candy = No Problems
Very few pet owners don't know the dangers of chocolate. Pets also have a hard time digesting nuts, ruling out many other candy bars. Being lactose intolerant, animals also should avoid caramel (as it's made with milk). Easiest solution- just don't feed your pet any of your trick-or-treat 'booty'. There are plenty of delicious pet-treat recipes that you can make ahead of time to let your furry friend join the feast!
6. Let them choose to participate in the fun
You may want a four-legged friend to tag along with you, but the 'decision' should be left to your pet. They may not be comfortable leaving a dark corner, never the less the house. Cat owners know what signs their feline displays when in distress. For dog owners like myself, shaking,panting, and most importantly the tucked tail are indicative of unease and fear.
If you own an outdoor pet, keep them indoors a few days before and after All Hallows Eve. Mean nasty tricksters exist. Be prepared, and keep your loved pet safe.
Preparing your Panicky Pet
If you know that your pet is not looking forward the constant doorbell ringing, raucous outside noise, and scary costumes…it's our job as owners to make them the most comfortable. I like to take two routes when making my little ones comfortable.
Herbal Aids

There are completely organic and natural herbs that act as semi-sedatives. Melatonin and Valerian root are known to be safe for animals and can calm the nerves. A calm sleeping pet is much better than a panicked anxious pet. Ginger (not candied) is good for upset tummies if they do get overwhelmed or anxious.
Although green tea may calm you down, animals cannot digest some of the goodies it contains.
Contacting your Vet to get some prescribed anti-anxiety medications would be another choice. You may also ask your vet about using and dosages for Unisom & Sudafed **with vet approval. Did I mention that you should ASK YOUR VET? I am not one, and I go to mine for the silliest questions ever. ……talk to your vet first.
Anti-Anxiety Clothing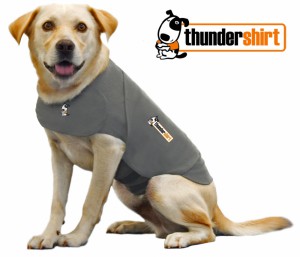 The most popular of these clothing are Thunderworks brand. In studies of anxious pets that were left to self-soothe and those who were restrained in anti-anxiety clothing, 80% of clothed pets showed improvement. By adding mild pressure (like a hug) to the abdomen it lowers blood pressure and suppresses the over-excited central nervous system.
I hope you've enjoyed these tips. Let me know if I've left any of your favorites out! Have a safe and happy Halloween everyone!