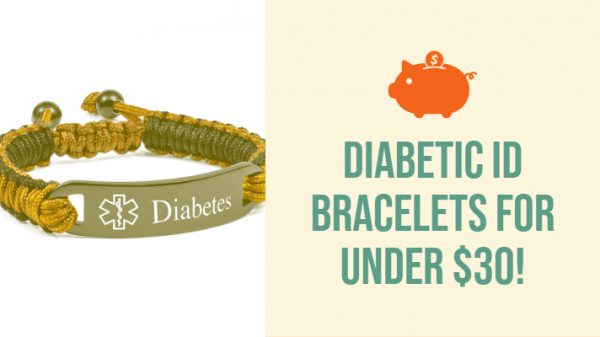 Need a Diabetic bracelet, but can't afford to spend much more than $30 for one right now? StickyJ Medical ID's got you covered! Below are some of our most highly-rated diabetic ID bracelets for under 30 bucks!
Adjustable Black Leather Diabetic Bracelet – This diabetes bracelet has been a popular choice since we brought it into our Diabetic jewelry collection nearly two years ago. With it's a soft and adjustable leather band; it's one of our most comfortable medical bracelets. It has a classic look and comes with the text Diabetes engraved on the front. This diabetic bracelet retails only at StickyJ.com for 24.99.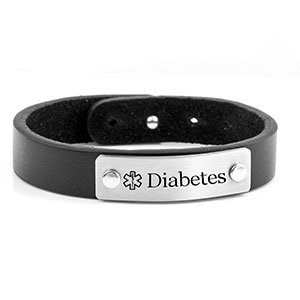 Modern Bar Diabetic ID Bracelet – One of our more elegant designs for women – our minimalist style modern bar diabetic bracelet is a great choice for those who like to keep things simple, yet pretty. The front comes engraved with the word "Diabetes" and there's room on the back to engrave up to 2 lines of additional health safety text. This diabetes bracelet is available for $29.99.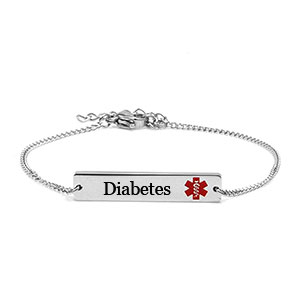 Chocolate Macrame Diabetes Bracelet – Another great adjustable choice, this diabetes bracelet is made with a drawstring macrame closure and steel engraved ID tag. It's black-plated finish gives an attractive white text when engraved. You can add up to three lines of additional safety info on the back. The price for this bracelet is an affordable 24.95.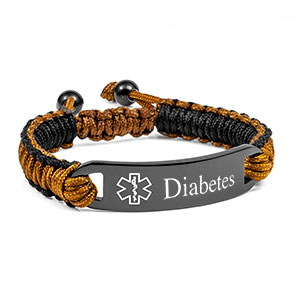 Silicone Diabetic ID Bracelet – This is one of our most popular Diabetes bracelets on this list. Due to its easy to slide on silicone band and surgical-grade stainless ID tag, it's an efficient bracelet that's also comfortable. It's easy to clean and since the ID tag is interchangeable, you can order a variety of different band colors to adjust its look. The price tag for this silicone Diabetic bracelet is 24.95.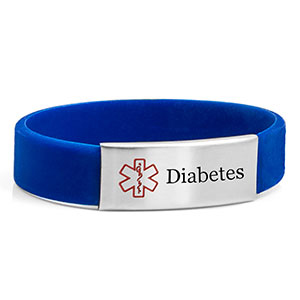 Genuine Leather Buckle Style Diabetes Bracelet – For a unique diabetic ID bracelet, our genuine leather buckle-up is a great choice. Its lightweight, comfortable and minimal design is one that our customers often like to mix and match with their other bracelets for a customized look. It comes laser etched with a medical alert symbol and the text "Diabetes" directly on the front portion of the leather band. This bracelet is listed for just 14.99.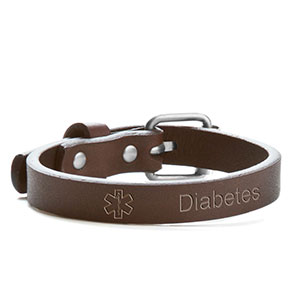 Our Diabetic bracelets are designed with our customer's safety, comfort, and style in mind. We don't believe that our jewelry should cost a fortune to those in need and henceforth, we've priced our products so that people who need them can be sure to get them as soon as possible. Visit our online medical alert jewelry shop today for more diabetic bracelet choices and to see our full range of available medical ids for men, women, and kids!