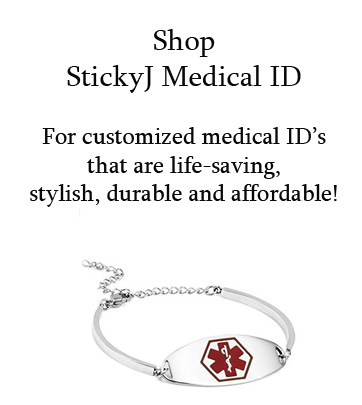 We recently had the honor of being featured in a quality Muscular Dystrophy News article written to assist people who are shopping for emergency medical ID's. The article briefly compared our company, StickyJ Medical ID with some of our top competitors, discussed why she chose us for her medical alert bracelet and why it's so important to purchase one.
Here are some of our favorite excerpts from her article:
"Medical IDs aren't one-type-fits-all. Some people prefer to have a necklace instead of a bracelet. Or you can choose to carry a simple medical ID card in your wallet with all of your important medical info on it. You could even choose to have a flash drive in the shape of a bracelet that a doctor can upload onto a computer and have instant access to your information. As a woman, I wanted something that resembled a piece of jewelry.
Some medical ID jewelry can be pretty expensive, so before starting your search, you should first establish a budget. I stuck to less than $50 including the engraving, which was $17. Just remember that you'll want something that's going to last for a while, so more money usually equals better quality. Another tip to help you stay on budget is to always look in the sale section before anything else. You never know, you might find something you love at a great price."
She then went on to write which medical alert bracelet she chose: "I ended up choosing the Vienna bracelet from Stickyj.com because it can be worn in the water, and if any of my information changes, I can just order a new ID tag and easily attach it to my bracelet, thanks to the lobster claws. The price for this bracelet was $19.99."
The author's article could not be more right, medical jewelry really is not a one type fits all, rather it depends on the individual and their specific medical condition, plus their unique style. The medical ID bracelet she purchased from us is one of our top selling items because of its elegance and durability. Plus the medical ID tag that comes with it can be engraved on both the front and back sides, so if you have a lot of medical conditions, allergies and more, this is a good sized medical ID tag to look into.
Learning of how our medical jewelry continually helps our customers to have more peace of mind knowing that they're wearing a lifesaving, yet fashionable ID is what truly speaks to us all here at StickyJ Medical ID. We love playing a unique role in helping to improve the lives of so many.
To read the article in its entirety, please click here.