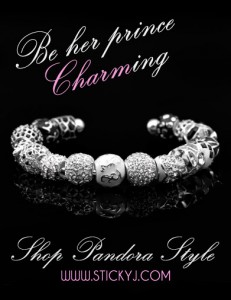 Our new Pandora style bracelets give you the opportunity to create your own look with a personalized bracelet or medical id that you design. Choose from dozens of interchangeable bead designs in sterling silver, crystal, and black enamel. Pick your favorites, wear them, and then mix and match them to create a new look with your personalized bracelet.
These pandora style bracelets with medical ID tag aren't just for the fashion conscious shopper looking for a new bracelet. We have several Pandora style medical ID plaques available as well for shoppers who need to purchase a medical ID bracelet with custom engraving but don't want to sacrifice style and beauty for functionality. While the standard ID plaques for these bracelets allow for custom engraving on both sides of the plaque, the medical alert plaques come with the Caduceus medical symbol pre-engraved on one side. The flip side of the plaque has plenty of room for engraving your medical condition and/or medications you are currently taking
Give a Pandora style bracelet as a gift! Even though Mother's Day is over, these bracelets would make a great gift for a mom, grandma, sister, niece or girlfriend at any time of year. Choose from a wide selection of fonts and engrave an important date, special message, or a monogram to personalize your bracelet.