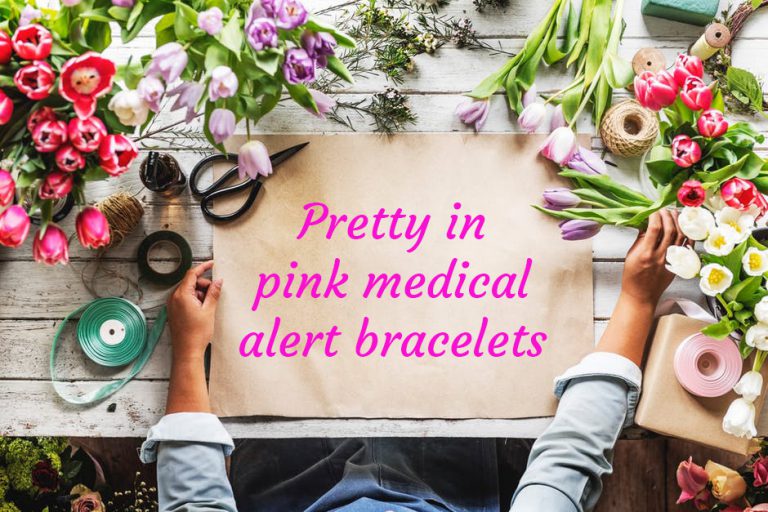 The color pink is thought to be a color which represents compassion, nurturing and love. Pink is considered to be feminine and romantic. Because of these qualities, it's no wonder pink is the color chosen to represent breast cancer awareness campaigns worldwide. A pink ribbon is commonly worn during the month of October to help raise awareness for this devastating condition. And, here at StickyJ Medical ID, we carry pink breast cancer medical bracelets in addition to a full line of pink medical alert jewelry containing charms, and necklaces.
The majority of our pink medical jewelry can be found within our medical alert bracelets collection. You'll find cute sports strap bracelets for girls, leather watch styles, nylon, silicone and even some metals have lovely pink embellishments.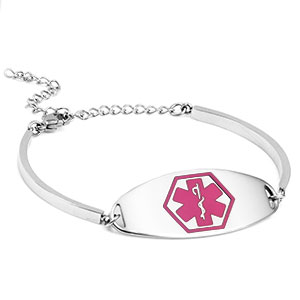 One of our most popular selling pink medical bracelets is our Priscilla Adjustable Medical ID Bracelet with Pink Symbol. The beauty of this bracelet begins with its polished finish. It's made of surgical grade stainless steel, so it's resistant to corrosion, plus it's durable. Additionally, this style bracelet is adjustable, so you don't have to stress about making sure you have the exact right size if you've not had a chance to measure your wrist. The backside of the medical tag can be laser engraved with your medical condition, medicines, allergies, emergency contact info and more to ensure you're utmost safety. This emergency ID bracelet is comfortable and elegant making it an excellent jewelry choice for girls and women of all ages.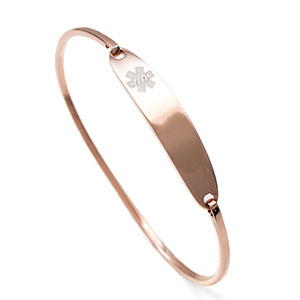 Another unique way to add some pink into your medical jewelry collection is by wearing rose gold. Rose gold is made up of 3 different metal components–yellow gold, silver, and copper. It's the copper that provides rose gold with its beautiful pink hue. We carry rose gold medical ID necklaces, bracelets and medical tags. Rose gold engraves beautifully and provides our customer with elegant and trendy medical jewelry.
In addition to all of our metal designs, this year, we introduced a new medical bracelet style that we designed, crafted and assembled ourselves. We took satin macrame so we could ensure the bracelet would be adjustable, then we added rose quartz gemstones to provide a beautiful aesthetic. Attached to the bracelet is a medical alert charm which can be custom engraved on its backside, resulting in a modern, comfortable and attractive medical alert bracelet.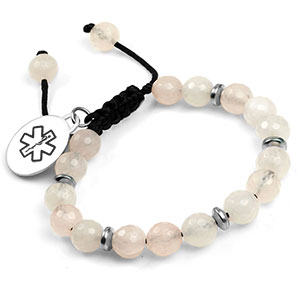 For pretty in pink bracelets, all the girls and ladies will love, visit our custom medical jewelry site today.