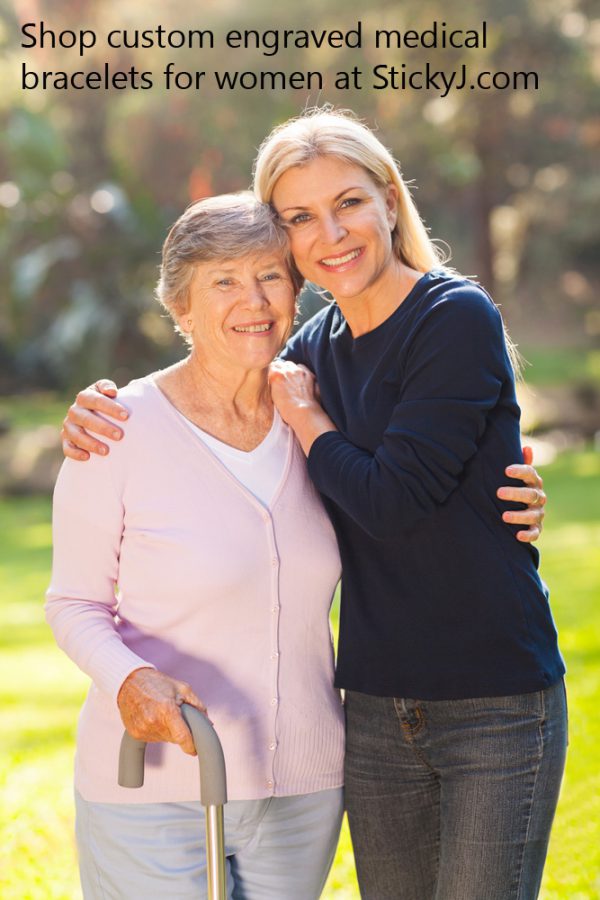 Selecting medical alert bracelets for women can seem like an awfully daunting task for some. But, not for all, there are those people who are very good at making the right decisions for the woman in their life and typically those said involved parties are other women. However, men, women, children– whoever needs assistance with choosing the best medical bracelets for women, you've come to the right place, because here at StickyJ Medical, we're going to heed you some extra helpful shopping advice.
For starters, we offer a huge line of medical bracelets for women in a variety of styles, shapes, colors and materials. We know that no woman is created equal and what one may like, the next woman may find absolutely atrocious. All this being said, here are some of the top-selling medical bracelets for women we offer and a small tidbit as to why it is that they are so popular and such an excellent bracelet choice.
Firstly, is our line of surgical grade stainless steel easy on off adjustable floral patterned white carnation bracelet. This bracelet is a fantastic choice for a woman, because it's pretty, it's incredibly comfortable, it provides safety while at the same time giving the appearance of style and it allows for 4 lines of medical engraving on the back. This bracelet can be engraved with black laser or our traditional needle etching method. Another perk to this bracelet is that it is affordably priced for its quality.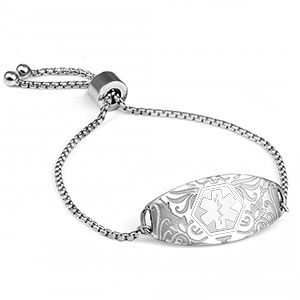 Next in line for discussion is our bone, dogs and harmony bracelet. This medical bracelet comes with tiger's eye and jade gemstones. It's fitted onto an adjustable macrame thread and paired beautifully with a wooden id tag. This wooden id tag has a customized dog pattern for all the dog lovers out there! In the center is the medical caduceus so first responders still recognize it as a medical id bracelet. This bracelet sold out within the first week of us putting it on our site. It's beautiful, it's adorable and it's comfortable. Laser engraving options are available for the back side.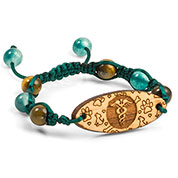 The third and final medical bracelet for her that we're sharing about is our gold bar bracelet. It's incredibly trendy due to its simplistic minimalist style. It can be engraved both front and back with laser or needle etching methods. It has a small red medical alert symbol placed on the far right side. It's very attractive to the eyes and can be paired with just about any outfit. It's elegant and comfortable. Plus, as an added bonus, it's adjustable.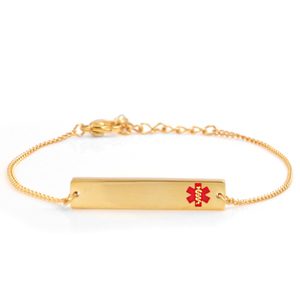 Visit our website today and browse our extensive collection of medical bracelets for women. Choose a look that is fashionable, while still providing the safety and comfort a medical bracelet needs. For extra assistance, StickyJ Medical helps their customers to easily navigate their site to find the medical bracelet they'll be completely satisfied with.