Getting your child to willingly wear a medical alert bracelet can be difficult to start with, but finding one that your child likes and can wear while being active in sports is often even more challenging. Traditional metal bracelets can pose a problem when your child wants to spend the summer in the pool, or those style ID bracelets might even be banned in some sports leagues.
Soft medical alert bracelets made of leather or nylon straps can still feature an engraved stainless steel medical tag with your child's necessary health information but are much more water and sports friendly. The medical tag won't rust, and the nylon or leather strap is sturdier than a good deal of chains. Your child can also choose a strap in his or her favorite color, or opt for several different medical alert bracelets to coordinate with outfits or team colors.
And if your child doesn't need an alert bracelet, the engraved tag can instead feature your child's name on one side and your contact information on the other to serve as an ID bracelet. When you plan summer outings to amusement parks, the zoo, or other crowded spaces where you might get separated from your child, a modified alert bracelet can be an excellent way to help if your child gets lost.
Whether it's an allergy to bee stings, peanuts or prescription medicines, letting medical professionals know how to care for your child is vitally important, but if your child won't wear their medical ID, it simply doesn't help. Finding medical ID jewelry that your child likes is imperative to his or her future well-being.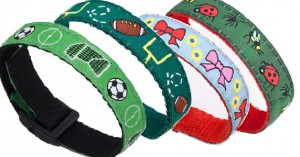 At StickyJ Medical ID, we suggest ordering medical ID bracelets that your kid will be happy to wear. Our straps offer a variety of patterns including bugs, cars, trucks, flowers, stars, camo and more to suit a range of preferences.
Visit our site and browse through our substantial, quality selection of medical jewelry for children to ensure your child's safety as soon as possible.