Spring has arrived in many parts of the world – and is especially noticeable where StickyJ Medical ID is located – the sunshine state also knowns as Florida! Spring is traditionally a time for cleaning out clutter and freshening up homes, businesses, gardens and more! This year, StickyJ Medical is playing host to a huge spring clearance sale and is slashing prices on medical jewelry items. Some of these items are on sale for as low as 85% off their retail price. This sale begins on Friday, March 2nd and lasts till the following Friday.
Here's a brief overview of what you can expect to find deeply discounted in this Spring clearance.
Numerous medical ID bracelets are including in this sale and you'll find a variety of styles, shapes, and sizes for men, women, and kids too. For example, this black cotton Epilepsy bracelet shown in the picture below is on sale for just $4! This bracelet is great, because it's adjustable, it's comfortable and it's low key styling means it can be worn with a variety of outfits.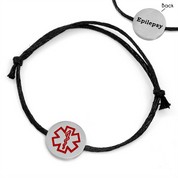 Another great medical ID bracelet included in this sale is the Austin adjustable leather medical alert bracelet. Its sale price is $3! That's such an amazing price for this bracelet considering it's classic styling and it's options for engraving. Both the front and back sides of its non-corrosive stainless steel tag can be custom engraved by StickyJ Medical ID with your medical safety details. This attractive medical bracelet compliments casual day wear to the office or goes great with you on a nature hike.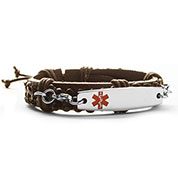 Medical ID bracelets aren't the only jewelry items you'll find on sale. You'll also be able to browse custom medical pet ID tags, medical alert necklaces, and charms plus accessories like neck chains to fit them all.
Stainless steel medical charms are a steal of a deal that you'll find available for only $2 in some cases! These charms are beautiful and elegant and make a great addition to your pre-existing charm bracelets, but they can also be used with neck chains, anklets, and even key chains.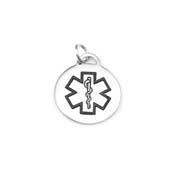 The production time for engraved medical jewelry items at StickyJ Medical ID is kept to a standard of 3 business days and you can trust that it will hold true for all the spring sale products as well. If you need for your item to reach you in a hurry, so long as it's not in bulk quantity, by selecting the expedited shipping option, it will be engraved and shipped out in one day.
Spring is a time for cleaning and organization. StickyJ Medical ID makes it easy and affordable to get yourself and your loved ones the safety that they need to start the season off right.