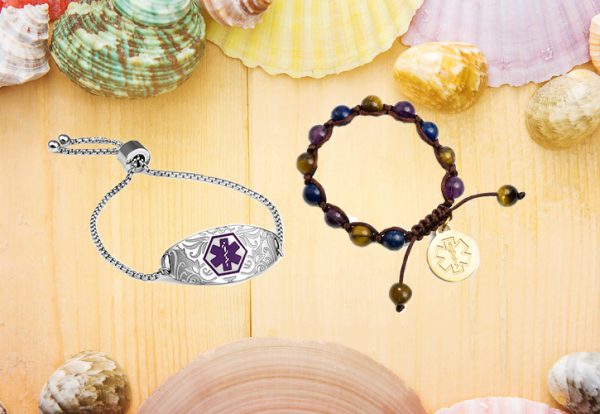 Medical safety is the real reason for needing to purchase and wear a medical alert bracelet. However, just because you need to wear a medical bracelet, does not mean that you have to put yourself out of style for it! We are living in the 21st century after all. At StickyJ Medical, we've got you covered with an extensive collection of stylish medical alert bracelets for women, men and kids. Find one customized to fit your stylistic needs.
Some of our most popular selling and stylish medical alert bracelets are our easy on off steel bracelets for women. They have a lovely floral pattern and medical symbol on the front, but leave plenty of room for engraving important medical details on the back. They're comfortable, adjustable and look beautiful on. Choose from a nice variety of colors which include, but are not limited to pink, purple, white, red, black, gold and rose gold.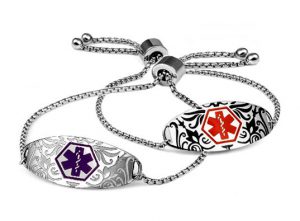 Another great choice for stylish medical bracelets we offer is our gemstone charm bracelets. Gemstones have been popular since the beginning of time and have been said by many folks to help improve the body, mind and spiritual progression of people. Our gemstone charm bracelets use natural stones. Some of the stones incorporated are tiger's eye, rose quartz, jade, turquoise, amethyst and more. Our jewelry artisans took a lot of time to hand-craft these bracelets in such a way to be pleasing aesthetically, but to also provide the utmost in healing and positive energy. Some of these bracelets come with a wooden medical ID tag which can be engraved with our laser on the backs with important medical safety information. The other style gemstone medical bracelet we offer comes with a charm attached that has the medical alert symbol on one side, but sufficient room on the back side for medical details to be engraved. These bracelets are adjustable and they are incredibly comfortable. They're modern and trendy–an excellent choice for a medical alert bracelet for men and women of all ages.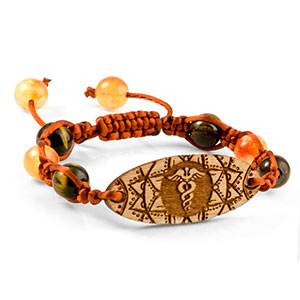 Shop StickyJ Medical today and find your customized medical alert bracelet that provides safety and fashion all in one.