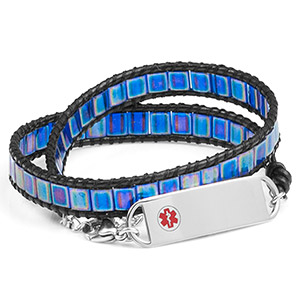 StickyJ Medical ID is one of the leading global providers in medical alert jewelry and they specialize in customized, make your own style medical alert bracelets which allow people to select from a variety of interchangeable medical alert tags and medical ID bracelet choices.
The possibilities are nearly endless with making your own bracelets which the huge variety of medical tags and bracelets choices available. The vast majority of medical ID tags are made up entirely of 316l surgical grade stainless steel which is an excellent choice due to its versatility and durability as they're non-corrosive. Additionally, stainless steel medical tags can be engraved with both laser and traditional etching methods.
StickyJ Medical ID medical alert bracelet designers recommend sticking with the same style metals when pairing up your tags and bracelets. For example, if you've selected a stainless steel tag, then it's properly not the best idea to pair it with a rose gold bracelet. However, in some cases, it looks unique and beautiful to pair golds and silver together.
For example, rose gold medical tags actually look quite stylish attached to sterling silver bracelet options. Rose gold and yellow gold — maybe not. StickyJ Medical ID suggests trying out a few different looks and perhaps purchasing a few different style medical tags to interchange and mix and match with various bracelets.
Leather medical bracelets in the wrap style are a popular fashion choice and the majority of these style bracelets come with lobster clasps on the ends so you may easily add medical ID tags in the color, shape, and style of your choosing.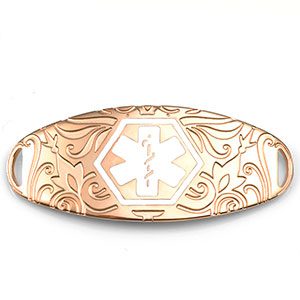 Medical charm bracelets are another fun way to utilize lots of medical tags and medical charms — many of which come in heart shapes to symbolize love and courage. Medical symbols often come with or can be engraved on one side of the medical tags and your medical safety information can be added to to the front or back or both sides.
Whatever great option you choose, StickyJ Medical ID encourages you to have fun and be creative with your customized medical bracelets.