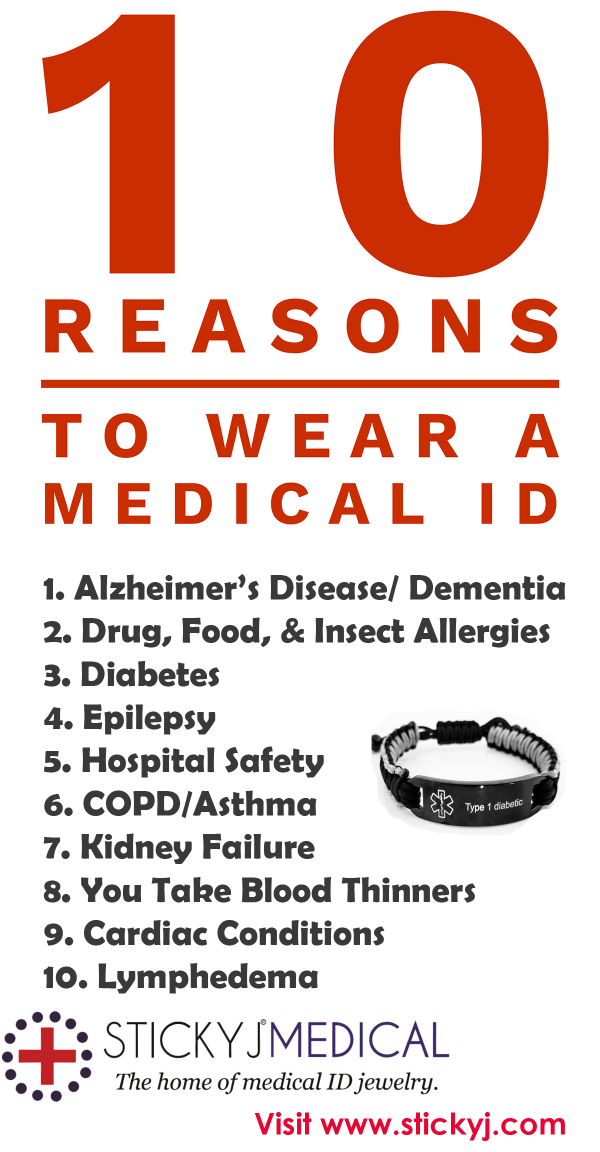 Have you or has anyone you know been diagnosed with a medical condition? Read further for our top 10 reasons to wear a medical alert bracelet. Plus, some great advice on choosing the perfect medical bracelet for you.
For more than 18 years, StickyJ Medical ID has been providing customers around the globe with a quality selection of medical alert bracelets and as such, we've learned what it is that our customers are looking for when purchasing their medical ID.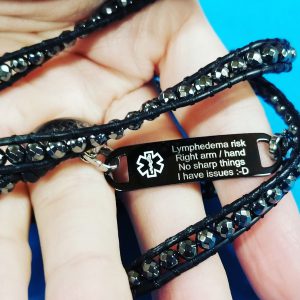 For starters, StickyJ Medical ID shoppers want a medical ID that can bring attention to the health issues that are most dangerous and impactful to their health in an emergency situation. As such, StickyJ Medical ID has created an entire product line of medical jewelry pre-engraved with specific conditions including Epilepsy, Diabetes, Asthma, Alzheimer's, and Lymphedema. Much of the items in the specific conditions category have the room available for additional engraving on the back side. You'll want to consider including any items you're allergic to, a reference to or list of any medications you take and emergency contact information including phone numbers and names and their relationship to you.
For those persons with a large number of medical issues, we'll say 3 or more – you may want to consider getting the text: See Wallet Card engraved onto your medical ID, then order one of StickyJ Medical ID's aluminum wallet cards which are large enough to hold more than 8 lines of text on each side.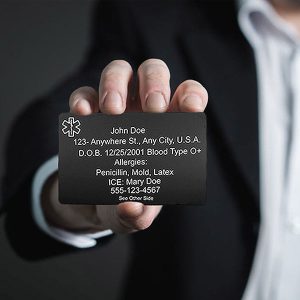 Wearing a medical ID is a smart choice because it can speak for you should you ever find yourself in the unfortunate position of being found unconscious or unable to verbally communicate properly due to a stroke or other medical impediment.
Here are our top ten reasons to wear a medical alert bracelet:
1. Alzheimer's Disease/ Dementia
2. Drug, Food, & Insect Allergies
3. Diabetes
4. Epilepsy
5. Hospital Safety
6. COPD/Asthma
7. Kidney Failure
8. You Take Blood Thinners
9. Cardiac Conditions
10. Lymphedema
When shopping for a medical ID, consider these tips:
You should like the appearance of your medical jewelry, so you'll be more inclined to wear it daily.
It should be made of a non-corrosive material so it lasts even if exposed to water or sweat.
It needs to fit you comfortably.
The medical ID should have a medical alert symbol on the front to indicate it as such.
Your medical jewelry should be legible and easy to understand in an emergency.
If you or anyone you care for has a medical condition, we strongly recommend purchasing a medical ID as soon as possible to ensure safety and to provide you with peace of mind every day. Please re-share our top 10 reasons for wearing a medical ID to help spread awareness to others.