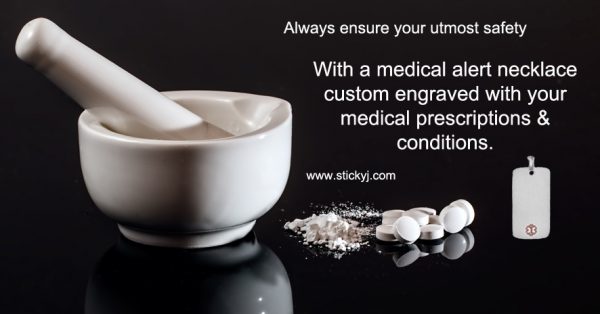 Medical ID jewelry has grown in leaps and bounds over the past twenty years and it continues to expand in styles, durability and overall safety. At StickyJ Medical ID, our jewelry design artisans and merchandisers have worked together diligently to create customized medical alert necklaces that are trendy, yet comfortable while still providing the medical safety our customers need. We're so confident and proud of our medical alert jewelry that we've put together a list of our 7 best selling medical alert necklaces to shine some light on why they're so great.
1. Lasting Tree Medical ID Necklace –
This medical alert necklace is an excellent choice for customers with an appreciation for nature who want a more fashionable look. The necklace comes with a decorative steel tree pendant which hangs low on a long chain and just above it sits a lovely oval shaped medical id tag which can be engraved with customized medical emergency details on either side.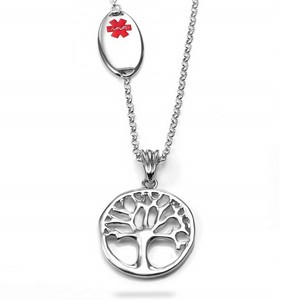 2. USB Medical Dog Tag Necklace –
Our USB necklace is a great option for persons looking to engrave many or just a few details relative to their medical condition because there is a lot of engraving space available front and back, but the true appeal of this product lies within its data storage capabilities. If you're looking for a way to keep your medical records on file that can be accessed at any time, then this necklace is for you!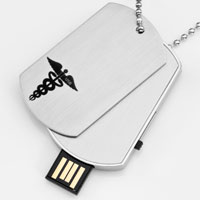 3. Flip Flop Sandal Medical Alert Necklace –
Who doesn't love flip flops, right? They remind us of being on vacation and relaxing at the beach. They're adorable and by association, they invoke a pleasant feeling. Our stainless steel flip flop medical ID necklace is small but just big enough to allow customized engraving with specific medical conditions such as Diabetes, Asthma, COPD, Allergies and more. It's a popular choice among girls and women.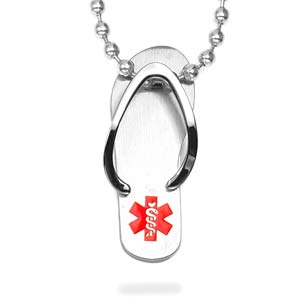 4. Double Hearts Medical ID Necklace –
This charming necklace is a top choice, because of its double heart pendants which symbolize hope, love, and inspiration. The design of these pendants allows for a good deal of medical details to be custom engraved front and back.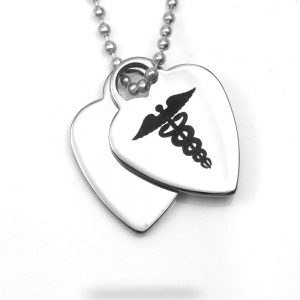 5. Medical Alert Stainless Guitar Pick Pendant –
For men and women, boys and girls who have a love for music, this guitar pick style medical pendant is a wonderful option. It comes with the medical caduceus engraved on the front and allows for engraving to be added to the back. The pendant is made of surgical grade stainless steel, so it's incredibly durable, while still providing a stylish aesthetic.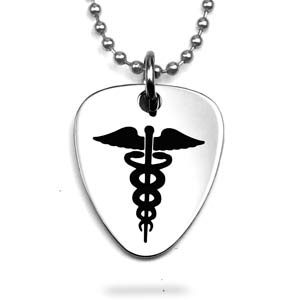 6. Robot Medical Alert Stainless Necklace for Boys –
Does your child have special needs and or a medical condition such as Autism or Asthma? If so, then our robot pendant necklace is sure to be a way to keep them safe while still providing them with a fun necklace that they'll be thrilled to wear. It's a popular choice among young boys and will hold up against the elements. Custom medical alert details can be added to the back.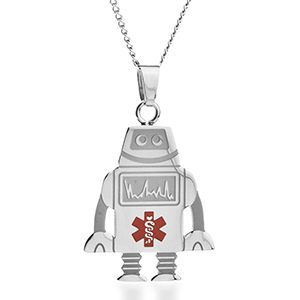 7. Angel Medical Alert Necklace for Girls –
Last, but certainly not least comes our angel medical alert necklace for girls. This pretty necklace is in the shape of an angel and is a reminder to kids that they're guardian angel is always watching over them to keep them safe and happy. It comes with a red medical symbol on the front so it stands out as a medical alert and it offers a small amount of space on the back to add extra safety details. This medical ID necklace is one that children actually want to wear.
While medical bracelets are certainly the more popular choice for medical jewelry, they're not the only choice. Medical alert necklaces are also a great option to provide safety, while still presenting a stylish look for men, women, and children of all ages.