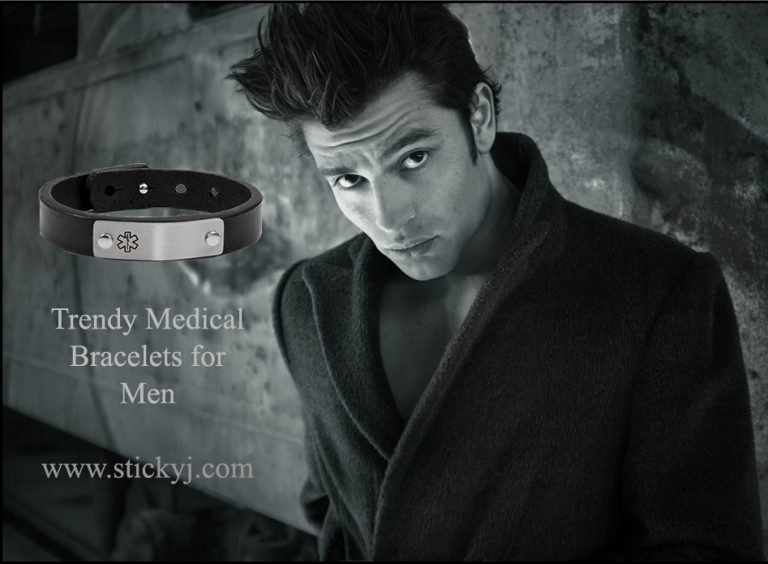 Who says that women are the only ones who care about fashion? Men care about how they look just as much if not sometimes more than many women. So when it comes to medical ID bracelets, men want theirs to look good too. At StickyJ Medical, we've put together a stylish, durable and unique collection of medical bracelets for men. Including stainless steel, gold, leather, rubber and hemp options to accommodate a variety of styles and needs.
Our most popular selling medical alert bracelets for men are our stainless steel choices. Likely the reason for this popular comes down to two important factors–their versatility and durability. Stainless steel can be worn with any outfit. It will hold up against the natural elements and will last for years without breaking. For the outdoorsmen, stainless steel is an excellent choice. These steel medical ID bracelets can be engraved on the front and the back with informative medical condition, allergy and life support details.
Another great stylish choice for medical alert bracelets is our leather bracelets. These leather medical bracelets can be laser engraved and look great with a variety of outfits.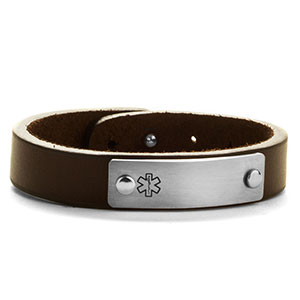 Gold and sterling silver medical bracelets provide a classy, timeless look. Our collection of gold medical bracelets is full of link choices and medical id tags which can be engraved front and back with our traditional needle etching method.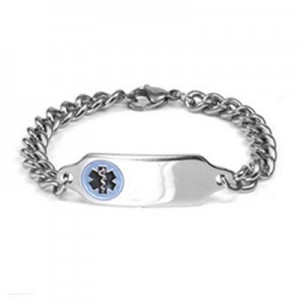 Our rubber and nylon sport strap bracelets are rather popular amongst men, women and children. They're available in a variety of colors including red, blue, green, black and purple. A medical ID tag can be attached and engraved both front and back and it allows for up to 6 lines of engraving on both sides to ensure the safety of a person with many medical conditions or allergies. Also, their closure is velcro which makes them easy to put on and adjust comfortably. They include a reflective stitching which is helpful when wearing them at nighttime.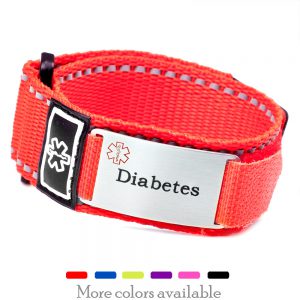 Find yourself or your man a trendy medical alert bracelet today at StickyJ Medical ID.