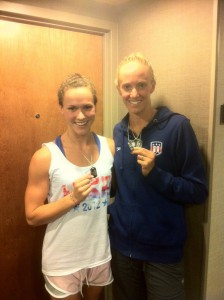 US Olympic Swim Team Jewelry
The 2012 Summer Olympics in London is just a few days away. We're excited to show our support for our country's athletes in the coming weeks, and we're very proud to announce that Sticky Jewelry was recently chosen to create the engraved dog tags that were given to some of those Olympic athletes this year. It's a great honor to be able to supply our Olympians with something to commemorate their great achievements.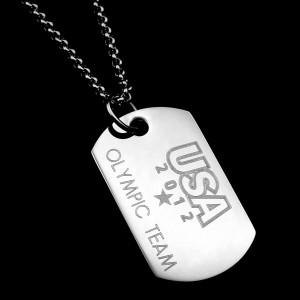 Sidenote: these dog tags are not for sale to the general public, they were created solely for the members of the US Olympic swim team.
A couple of weeks ago, all of the men and women who placed high enough in the US Swim Team Trials in Omaha with the goal of qualifying for the US Olympic Swim team received a Team USA 2012 stainless steel dog tag from custom jewelry engraver – Sticky Jewelry. The dog tag is made from 316L stainless steel which is extremely resistant to rust and should be ideal for wearing in and around the pool. These dog tags were custom engraved with the 2012 USA Olympic Team logo, as well as the event(s) that each swimmer is competing in. We were very happy with the way these dog tags turned out in the end, and we hope our athletes think so as well. Go Team USA!
Join us in cheering on our athletes this summer! Find out more about the 2012 Olympic games by visiting http://www.london2012.com or check out NBC's Olympic website to find out when and where to watch your favorite events.
If you'd like to learn more about what it takes to become an Olympic athlete, check out this great post by JenReviews titled: "What it Takes to Become an Olympic Athlete: 15 Essentials According to a Two Time Olympian" for some awesome tips!