It's very important to make emergency responders aware that you have a heart condition. If you're having any sort of cardiac arrest and you have information engraved on your medical bracelet it helps first responders tremendously. People who have heart conditions aren't always able to communicate when they're experiencing a cardiac emergency. If paramedics know from a medical alert bracelet that you have a heart problem or a history of a heart problem, then they'll know to hook up monitors and do the appropriate tests to find out if a significant cardiac event is occurring. Knowing that kind of information helps first responders figure out if they need to call a cardiac facility, or perform special tests. Time is crucial when dealing with any sort of cardiac condition so having your specific health conditions, any prescriptions you take, emergency contact details and more available for quick access are vital for your safety.
At StickyJ Medical ID, we put safety first. Because of this, we've carefully created our collection of medical alert bracelets to be durable, plus many of our medical alert bracelets, medical alert necklaces and more are hypo allergenic, so they are crafted of surgical grade stainless steel. This is especially helpful for folks with an allergy to nickel.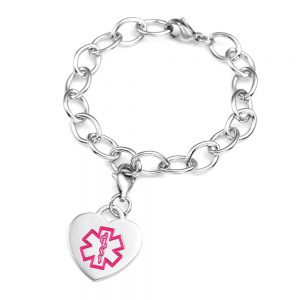 If you're not too keen on wearing hearts, but you still need a medical alert bracelet for your heart condition, we also carry leather, sterling silver, gold, nylon, silicone and black plated steel options with shapes such as circles, ovals, rectangles, squares and more.