If you have been diagnosed with Type 1 Diabetes, a medical bracelet can provide important information in an emergency.
At StickyJ, we pride ourselves on providing our customers with a stylish variety of Diabetic jewelry including medical alert bracelets, medical charms, tags, necklaces, wallet cards, keychains, and more.
We carry Type 1 Diabetes bracelets for both children and adults, men and women, boys and girls.
On our website, you'll find a page dedicated specifically to Diabetic Jewelry only. You will come across choices for T1 and T2 diabetes, so you'll need to be careful when purchasing to ensure you choose the correct type.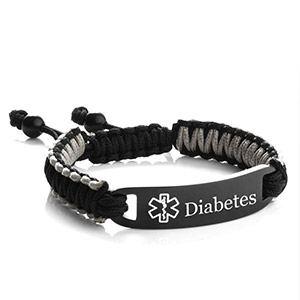 In addition to our Diabetic jewelry, most of our medical alert bracelets can be custom engraved with Type 1 Diabetes. Depending upon the available engraving space for the product, any variation of the condition can be engraved.
Our most popular medical id's have always been styles that go well with just about any wardrobe. Many of our customers like silver steel, all black or all gold bracelets, because they feel confident that they can wear their bracelet every day with a different outfit.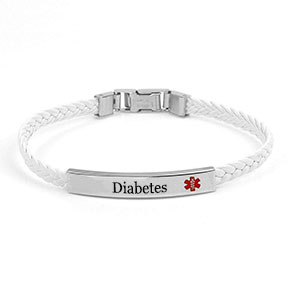 For those people with more colorful tastes, we've not left you out; we've created a great line of colorful beaded bracelets that feature complimentary colors in the form of beads, natural stones, and charms.
Once you've selected your diabetic bracelet, you'll want to personalize it with the appropriate safety details. We recommend including any medications you take such as Insulin. If you're allergic to any medications, it's a good idea to include that as well. Additionally, including at least one person as your emergency contact is a useful addition to your medical ID.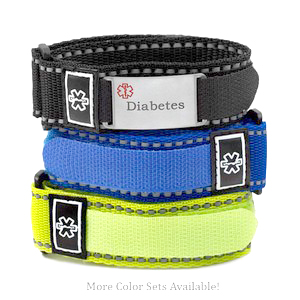 Prices vary for our medical alert jewelry, but we do our best to ensure that it's affordable for everyone. We recommend visiting our clearance section and utilizing your health spending account as medical alert bracelets are an eligible item.
Type 1 Diabetes is a very serious condition that deserves the best in care. StickyJ Medical ID is committed to helping you live your best life with Type 1 Diabetes by offering great medical jewelry that's life-saving, comfortable, and of course — stylish!