Find Your Perfect Medical Alert Bracelet:
In just 5 easy questions you can have the medical alert bracelet that's tailor-made just for you in every way (style, material, clasp style, and engraving space)!
Grab pen & paper, and let's get started!
1. Style: It's Saturday, what are you most likely doing?
A. I had lunch with my best friends and tonight is going to be girls night out or date night.
B. I spent the day pampering myself, for tonight I have a very fancy party where I am Belle of the Ball.
C. Saturday's are when I get to enjoy the great outdoors: fishing, camping, hiking, kayaking; you name it!
2. Material: How do you feel about your jewelry?
A. I express myself through my jewelry and I like having lots of pieces to choose from. I don't have the time to take special care for my whole collection!
B. Jewelry are my treasures. I love caring for them and feel great when I get to wear something so special.
C. My medical alert bracelet better be durable because there is no way I'm going to remember to clean it… or even take it off when I hop in the shower.
3. Clasps: How do you need your medical alert bracelet to fit?
A. I don't mind a clasp that is a little more difficult if it looks as fashionable as the bracelet itself!
B. I prefer the classic clasps, I don't have much of a problem doing the traditional lobster clasps.
C. I have a very hard time with clasps, my hands hurt too much to mess with all the tiny pieces.
D. I am someone or am shopping for someone who, for safety, shouldn't take off their medical alert bracelet easily (like a child or someone with Alzheimer's).
4. Engraving: How much do you want to say?
A. I prefer to be discreet with my information; just my condition and a contact number.
B. I like to keep some things hidden, but I want medical responders to know a lot about me.
C. I want lots of engraving space so I can have room to include anything I may want and more!
5. But… Do I really need a Medical Alert Bracelet?
A. I have a chronic medical condition
B. I take lots of medications and have a few allergies
C. I'm only allergic to Peanuts and I'm always really careful about what I eat or touch.
ANSWERS:
1. For Style I Answered:
A.
You are all about the Fashion! Rock your style in a way that keeps you safe. You should look for: Bangle bracelets, medical alert Charm bracelets, and beaded medical bracelets.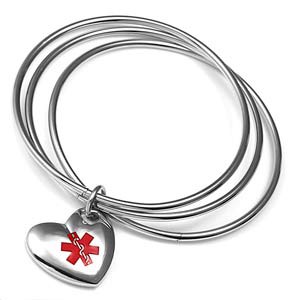 B.
Move over James and Audrey, we have a timeless treasure here. You should look for: medical cuff bracelets, the classic ID bracelet, or our precious pearl medical alert bracelets.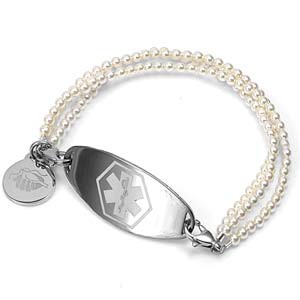 C.
You won't stop moving and you need a medical alert bracelet that can keep up with you. Depending on how hard you play, you have a few options. The best options for an active lifestyle are our sport strap bracelets or paracord medical alert bracelets. Other great options are the classic stainless steel medical id bracelet or a more stylish medical cuff bracelet.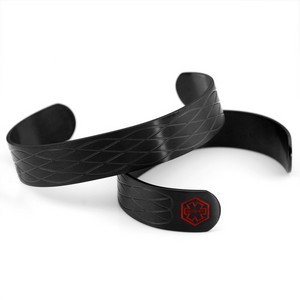 2. For Material I Answered:
A.
Time is precious, and you would rather spend yours getting ready for your next event. You need a medical alert bracelet that's fashionably durable. We think your best options are stainless steel bracelets or beaded bracelets. Lucky for you, StickyJ has hundreds of both to find the perfect one…or five, for your style!
B.
Feeling fancy? Having a medical bracelet that is ready for your most elegant party is easy to find here; but these special precious metal take a little precious care. If you have a little extra time then the top quality line is perfect for you. Higher karat gold is the best quality, but know that it may be a little too soft for daily wear. Sterling silver is a less expensive precious metal option; personally I like it better than gold.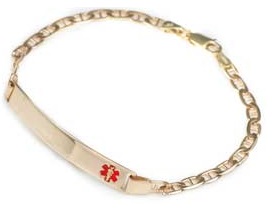 C.
You're a busy person! Your medical alert bracelet needs to be sweat / water resistant and durable. We recommend our activewear line with sport straps, paracord bracelet, and our 316L marine grade surgical stainless steel.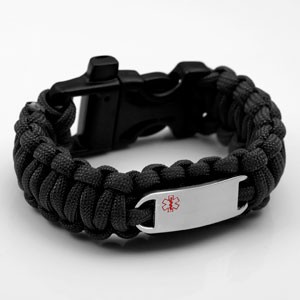 3. For Clasps I Answered:
A.
If your medical condition doesn't hinder your dexterity and you are all about the fashion, you can feel safe to use any clasp type. The more discreet clasps options are hidden clasps, toggle clasps, or hook clasps.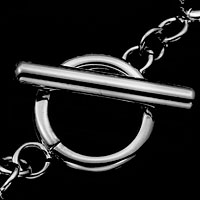 B.
The classic lobster clasps or box clasps offer a slightly easier option than some other clasp types. They both feature a retractable side hook and a small loop. The lobster resembles a lobster's claw and the box is just a little boxier. If you find these just a little challenging, we sell buddy clasps to make it easier!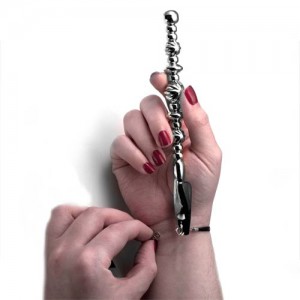 C.
Wearing your medical alert bracelet should be easy. It should keep you safe while being stylish enough to want to wear! If your bracelet is too much of a hassle to put on, you won't want to put it on. The easiest clasps for you are the velcro clasps, buckle straps, or magnetic or snap closures. If you find a bracelet with lobster clasps you love, we have easy magnetic adapters to have the best of both worlds!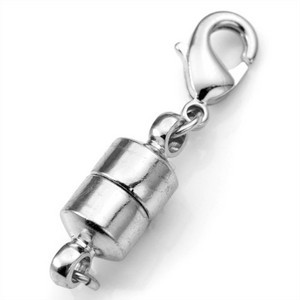 D.
You need a medical ID bracelet that is difficult to take off. You're looking for clasps that won't be easy to take off for young kids or someone with dementia / Alzheimer's. Our safety, or "Sister" hooks have a curved hook that latches inside an oval cage for extra security. Sister hooks are offered on our entire line of Oneida Jewelry! The hooks are shown on this bracelet but can be requested on any Oneida bracelet.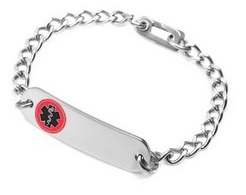 4. For Engraving I Answered:
A.
If you are looking for just enough engraving space to allow for condition and contact number then you can fit your information on a charm or pendant. We have a great selection of medical charm bracelets in stainless steel, gold, sterling silver, leather, and even some beaded medical charm bracelets!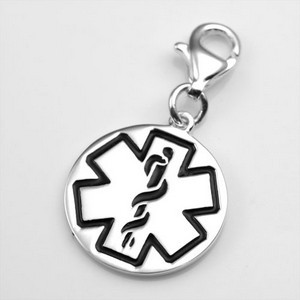 B.
In order to read the engraving, we suggest using larger charms or traditional medical ID tags for a decent amount of engraving. Look for pieces that offer 2-4 lines of engraving, especially if front & back engraving is offered. This will easily allow for the condition, your name, allergies, and a contact number.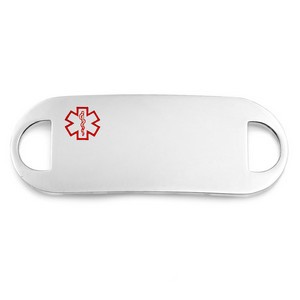 C.
If you want to have lots of engraving space, more than you think you'll ever need… you should opt for a medical alert bracelet with a larger ID tag or even a large dog tag. Don't forget that you can always engrave "see wallet card" and use our Free Wallet Card!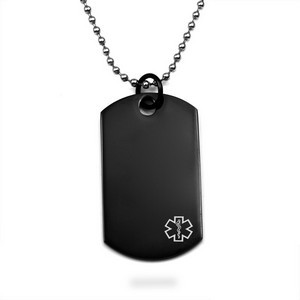 5. For But…. I Answered:
A – C
YES! You need a medical alert bracelet. Emergencies are out of our control, the best we can do is prepare for them. Luckily we have hundreds of medical ID bracelets at StickyJ. It's impossible to not find at least one perfect for you!