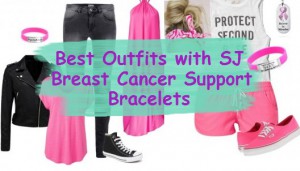 In the month of October, we launched our Breast Cancer Awareness Bracelet line. I added the products to the popular fashion site – Polyvore. I had no idea that the new line would create such interest! I almost needed to make Polyvore responding my full-time job! The overwhelming interest and support were so great.
I tried to remain neutral; because I love that everyone has different tastes and styles. But I'm no saint. So here are my top 10 favorite Polyvore style boards made last month!
Culpepperadrienne created a relaxed but supportive outfit that shows relaxed but fun style!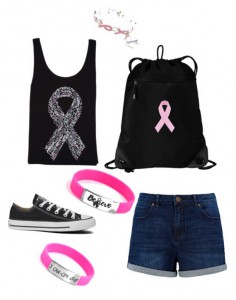 Jean Shorts, a pair of Chucks (sneakers), Tank top from Forever21 (who are also Donating profits!), our Breast Cancer Awareness Bracelets, and a cute drawstring backpack!
Teddythegreat put together a sexy yet comfortable outfit that I could see wearing to dinner to even a beach wedding! …it helps that she used my favorite nail polish brand.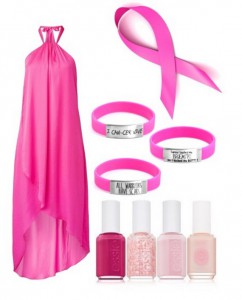 Playfuly & Sexy bright pink dress, pretty pink nail polish, and out breast cancer awareness bracelets. I also like that she didn't assign shoes to the set; it lets the set be more 'up-in-the-air' for where you want to wear it.
Gone-girl made a fun rocker style look that you don't have to own a motorcycle to get away with. I always enjoy outfits that are like a mini vacation from my normal… relatively boring… style.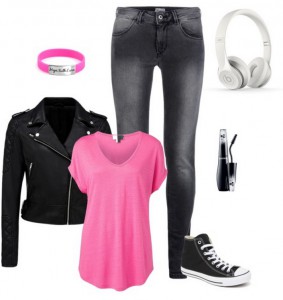 Dark wash jeans, pink loose t-shirt, leather jacket, our breast cancer awareness bracelets, and sneakers complete this 'hard-core'-light look.
Katierae627 posted a cute running or maybe workout outfit. The sneakers throw me off because though comfortable, VANS are not really intended for exercise. No arch support = not for me.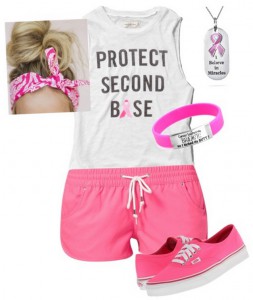 Work out (or at least look like you did haha) in a relaxed vintagey looking tee, pink drawstring, VANS, a cute support pendant, and our awareness bracelets! I really like the hairstyle she chose for the look, but I couldn't pull it off.
Lifestyle-79 made a playfully cute outfit that is perfect for younger girls!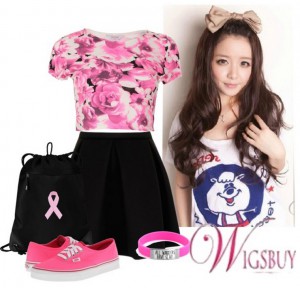 She paired a pink floral cropped t-shirt, black high-waisted ruffled skirt, pink sneakers, our breast cancer awareness bracelets, and she also used the pink ribbon drawstring backpack.
Small-town-hometown-girl true to her name assembled a country themed get-up that will make you say YeeHaw!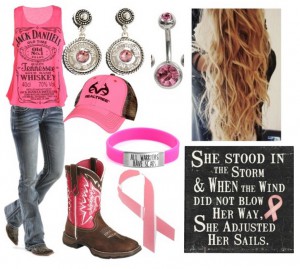 She wrestled up a kickin' combination with our awareness bracelets, relaxed blue jeans, a hot pink Jack Daniels whiskey tank top (so freaking cute!), cowboy boots with pink inserts, adorable shotgun earrings, a real tree pink camo hat, and beautiful long waves!
Mollyandthelostboys will keep you warm this winter with a comfy sweater outfit! I want to be wearing it right now…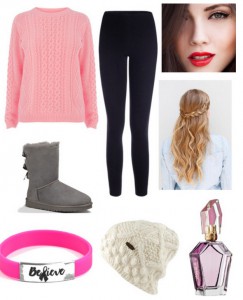 Cozy up with a light pink cable knit sweater, black leggings (or jeans if you're like me and don't wear leggings out of the house), grey UGG boots…or other boots, breast cancer awareness bracelets, and a knit beanie!
Puppiesrule created a great casual Friday ensemble to support breast cancer in style!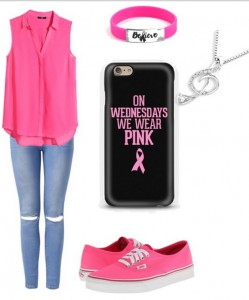 Another fan of the pink VANS- she paired them with light denim jeans, a Pink button Blouse, a crazy expensive (but beautiful) treble clef pendant, and awareness bracelet.
Micheal-madison designed the perfect errand running get-up that is comfortable, functional, and fashionable!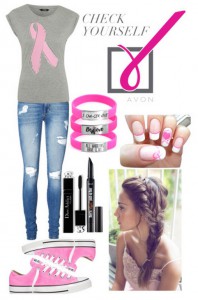 Jeans, pink Converse sneakers, and relaxed gray breast cancer ribbon shirt, paired with our awareness bracelets; make for easy movement on a potentially long day. I also love the hairstyle that would be cute and stay out of your face! Now I just need someone to braid it for me…
Grace-buerklin's creation wraps up our top 10 countdown of StickyJ's favorite Breast Cancer Awareness Outfits. I wanted to end with hers because she focused on a bright color palette to showcase her breast cancer support gear. But that color wasn't pink! She chose ORANGE! As I mentioned in a previous blog, one of our employees is a survivor and she jokes that the worst part of her cancer experience was that she hates pink.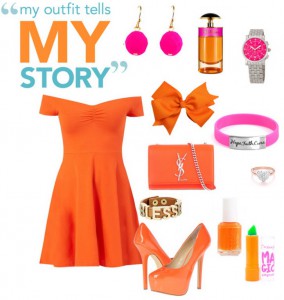 A beautiful dress is paired with orange pumps and a ton of awesome accessories including our Breast Cancer Awareness bracelet. Orange you glad I saved this one for last?!
I hope you have enjoyed the top 10 Polyvore boards this month. I would love to see your personal style too!
Go to Polyvore.com and start designing!