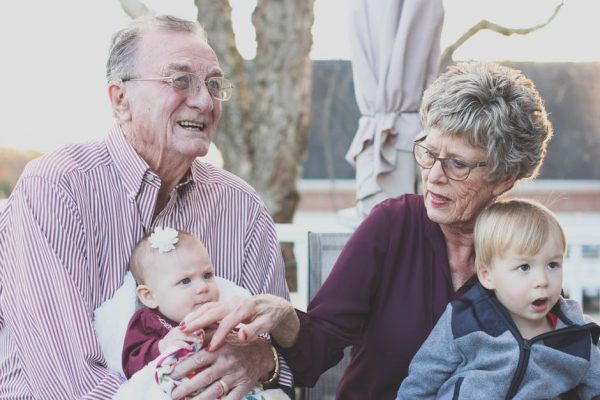 Looking for medical jewelry, but want something other than the standard medical ID bracelets, or perhaps you'd like to add extra safety or would like a backup in case you lose it? A customized medical ID necklace for adults could be the answer you seek.
At StickyJ Medical ID, we specialize in offering a variety of customizable medical jewelry options to all of our customers regardless of their gender, age or medical conditions. Medical alert necklaces allow our customers the opportunity to keep their wrists free if they find a medical alert bracelet cumbersome if it tends to get in the way while they're working.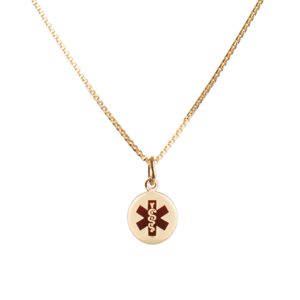 Our medical ID necklaces collection is full of helpful choices that allow for comfort and safety while still remaining fashionable choices.
For women, we carry a lovely line of sterling silver and gold bar style medical alert necklaces. These gorgeous, minimalist style selections have space available to be engraved on the front and back with a few lines of text. A popular choice for many women is our heart-shaped charm necklaces. They look pretty and symbolize courage and love.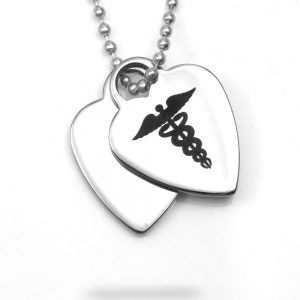 For all of the men out there in need of a medical ID, we've got a huge variety of medical dog tags and more. If you're looking for a medical alert necklace with a lot of room to engrave many medical details, an aluminum dog tag or our USB medical dog tags are great offers for you. They come in surgical grade stainless steel, titanium, black plated steel, and sterling silver. Our USB medical dog tag, in particular, is an excellent choice because, on top of providing its owner with a great deal of room to engrave their health conditions and emergency contact details, they can add even more of those details to their digital flash drive. The USB medical dog tag is available in 2, 4 and 8gb's.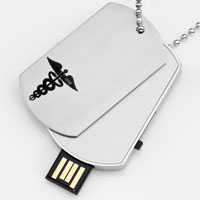 Medical alert necklaces are a great choice when it comes to medical ID's because they're customizable, they're spacious and they're in people's line of sight. Which is rewarding, because it will help to bring additional awareness to a persons health conditions, allergies and more.
For amazing medical alert jewelry that lasts, shop StickyJ Medical ID today!