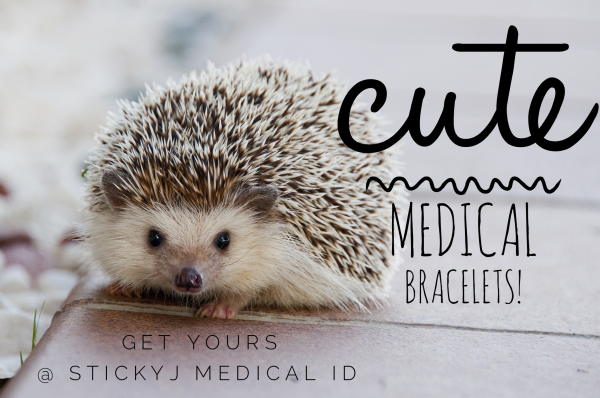 Looking for cute medical bracelets for your kids, for a friend, a loved one or yourself? You're in the right place! At StickyJ Medical ID, we carry a huge variety of cute medical ID's that look fabulous with all kinds of fashion choices and…bonus! – they can be engraved to suit your healthcare and safety needs.
Let's start with our options for kids – For kids, just about every bracelet sold at StickyJ Medical ID is a cute medical bracelet. Our purchasing team has thoughtfully selected styles and looks that kids adore. We've got cute bracelet straps with butterfly patterns for little girls and cars, dump trucks and more for little boys. If you're looking for cute medical bracelets for kids that are gender neutral – you may want to look at some of our green and yellow options with stars, planets, flowers and other solid colors. Additionally, our rubber allergy bracelets for kids come with snap-in buttons with all sorts of cute characters to show the type of allergy your child has from penicillin to peanuts!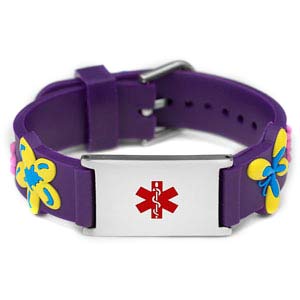 Next, Let's Talk about our Fabulous Choices for the Ladies – What do women want? What do they really want? For some women, they just want to look cute. Looking cute encompasses a lot of different styles. One great way to nail a cute look is to pair a fabulous tracksuit (yes, there is such a thing as fabulous tracksuits – Google it!) with some fresh white sneakers. Wear your hair up in a pony (with make-up on point of course), then add your favorite sports style medical ID bracelet to complete your look. Another cute look for ladies takes nature-inspired pieces like leather and denim and mixes and matches them to create a sort of boho chic effect. You can find a bunch of cute leather medical bracelets at StickyJ Medical ID. Or, another cute ensemble for women involves them channeling their inner fairy goddesses – mix, match and layer minimalist gold accessories with lightweight whimsical dresses and skirts for a super cute look. Include a gold bar medical bracelet and you're good to go.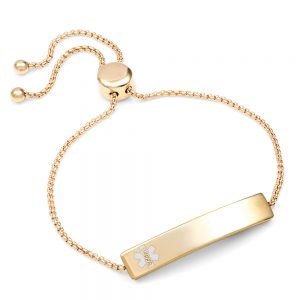 Last, Men can wear cute stuff too! – I know that there's all this talk out there in the world about how men have to always look tough in order to be real men and to show their dominance as alphas, etc. Well, that's a load of b.s. Men are men regardless of what they wear and what really matters is staying true to your personal style. If you're a guy with a love of comic books, then you should get yourself a tee-shirt with a beloved comic hero to display your appreciation proudly. Wear that shirt with a pair of pants and a comfortable medical bracelet in stainless steel, silicone, nylon or leather and you'll have a super cute look pulled off. Another way for guys to dress cute is to add a fun tie with a quirky pattern to any shirt. Flamingos, pineapples, different species of *doggos, chickens, raspberry pi's, video game controllers – the list can go on and on, but you get the point. Find a cute tie and then match some cute medical bracelets with it for a fun, completely unique look!
Since you'll likely be wearing your medical bracelet every day, it's a good idea to get yourself more than one. It's also a good idea to purchase a medical bracelet that's going to hold up. Visit StickyJ Medical ID for countless options of durable, comfortable and cute medical bracelets that you'll be happy to wear.