Who needs a Medical ID?
Anyone with a chronic medical condition or allergy and those taking medications should wear a medical alert bracelet, pendant or charm. In the event of an emergency, medical emergency personnel routinely check to see if an unconscious or unresponsive person is wearing a medical alert bracelet or medical alert necklace. Having your medical condition and food or drug allergies in plain view for the medical emergency personnel can help save your life!
Why should I buy engraved medical jewelry from StickyJ Medical ID?
Our emphasis is on quality and style. Many of the medical bracelets and pendants we sell are produced exclusively for us by contracted factories in Europe, Asia, and Mexico. We set the standard, and we perform the quality assurance testing. If an item doesn't meet our standards, we don't sell it.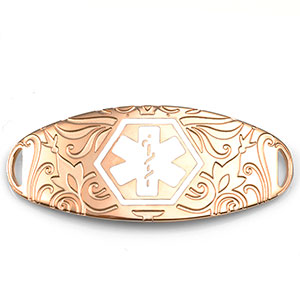 Nearly all of the stainless medical bracelets and pendants we produce are made with 316L surgical stainless steel rather than 304 grade stainless. It typically costs about 20% more to produce an item in surgical stainless steel, but we think it's worth it. All stainless steel is hypo-allergenic, but 316L surgical stainless steel has anti-corrosive properties not found in the more common 304 stainless. 316L stainless steel is also known as "marine grade" because it's highly resistant to chloride corrosion.
The stainless steel engraved medical jewelry found in most pharmacies and online stores are typically made of 304 stainless, which is more likely to corrode when exposed to certain chemicals, and normal body sweat. Manufacturers aren't required to identify the exact grade of steel contained in their jewelry products, as they are with sterling silver or gold, but if a medical bracelet or pendant isn't stamped with either '316L' or 'Surgical Steel', then it probably isn't surgical stainless steel.
Will the engraving be centered, and will it be readable?
We engrave all of our jewelry on-site, and we have the best engravers in the business. Our apprentice engravers spend months in training with our certified master engravers before they are allowed to engrave on their own. We equip them with state of the art computerized engraving systems to help ensure the quality and accuracy of each inscription. StickyJ Medical ID has eight fully computerized engraving systems at its Seminole, Florida facility.
We understand the importance of engraving your medical alert jewelry according to your instructions. Our online ordering system allows you to include "special instructions" which appear on the work documents used by the engravers. You can even preview the inscription in multiple fonts before you order so you'll know exactly how it will appear. When you receive your order, you'll find a name card enclosed from the engraving team member who actually engraved your order. The engravers take pride in their work and love receiving feedback from customers.
To be continued…