Stuck with a Medical Condition; not an Ugly Medical Alert Bracelet!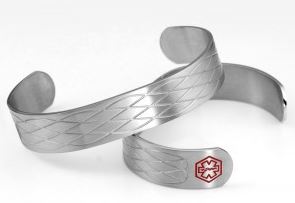 Wearing medical ID bracelets can now be both life saving and fashionable. Sticky Jewelry carries a wide range of jewelry to suit any style and any age. Many of our bracelets are inspired by the latest fashion trends, but we also provide medical jewelry that's both classic and traditional. We use fabulous rich colors, gorgeous hand-crafted materials and we are dedicated to the highest standards; so we combine inspirational jewelry with the durability of quality materials such as 316L surgical steel, titanium, sterling silver, and gold. As an alternative to metal jewelry, we offer medical bracelets made of leather, nylon/polyester, rubber, and beads.
316L surgical stainless steel does not stain, corrode or rust easily. That's why it's used to manufacture surgical instruments. And, because of its resistance to corrosion, it's ideal for a bracelet that needs to be worn daily. In fact, surgical steel can even stand up to chlorine. And best of all, it is hypoallergenic. Sticky Jewelry is unique in that nearly all of our stainless medical id's are made of 316L surgical stainless. Most other medical jewelry suppliers typically sell 304-grade stainless jewelry. Both are hypoallergenic, but only 316L is non-corrosive.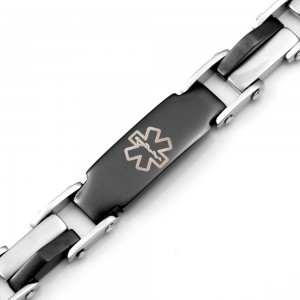 Titanium is also a popular metal for medical dog tags, medical id watches, and men's medical bracelets. It's sophisticated and rugged appearance is stylish and fashion conscious, but its lightweight property combined with the fact that it's hypoallergenic, making it a preferred metal for everyday wear.
Our beaded medical bracelets combine delicacy with sophistication to create beautiful jewelry that's truly functional. We use semi-precious stones, Swarovski Crystals, Bali beads and sterling silver to produce medical bracelets in a vast range of styles and colors. The Bali Beads we use are made on the island of Bali located in the midst of the Indonesian archipelago. Artisans from Bali have been handcrafting beads and silver jewelry findings for nearly 1,000 years. The quality is excellent, and the designs are truly unique. Sticky Jewelry bracelets combine the durability of surgical stainless steel with the delicate and ornate designs found in Bali silver. The result is a medical id alert bracelet that's both fashionable and practical. Both children and adults enjoy wearing our hand-crafted beaded bracelets.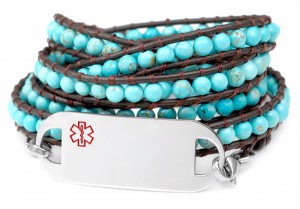 Because we believe in providing a quality product that's beautiful and socially responsible, Sticky Jewelry has partnered with the Links of Hope Network, which provides sustainable income to rural impoverished women in Honduras. Links of Hope Network takes great care to observe fair trade practices, and to positively impact the lives of the artisans who make the beaded medical bracelets we offer.
On our website, stickyj.com we make it easy to shop for a variety of Medical ID jewelry items, engraved gifts, and custom engraved products that are both beautiful and a great value. We offer more than 2,500 unique personalized items, and our customer service team is always eager to help answer any of your questions or concerns. Simply call 727-823-9500, and we will gladly assist you and help you find the Medical ID jewelry that best matches your needs.