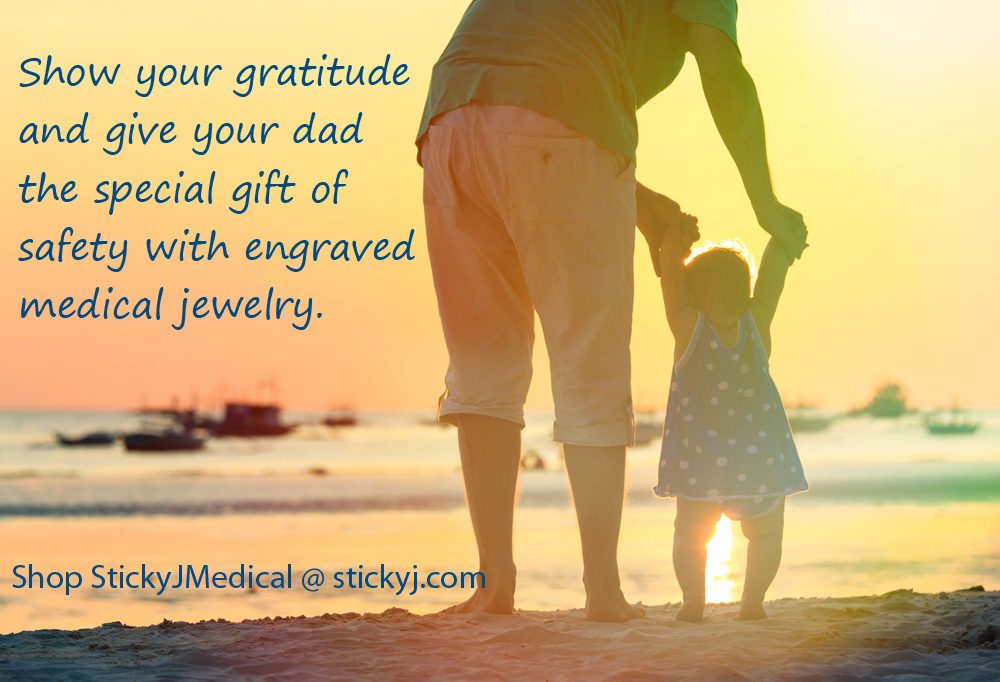 When it comes to Father's day, the vast amount of ways to show how much you care can vary far and wide. Whether you're looking to share an experience, buy or make a thoughtful gift or simply show you care by spending additional time with dad, now is the time to begin planning and here at StickyJMedical, we've got you covered with tangible, practical and quite possibly life-saving gifts choices.
If you're looking to buy your father a tangible gift, why not buy him something useful? Most dads appreciate a gift that is practical and assists their day to day lives. At StickyJMedical, we provide a fantastic collection of medical alert jewelry which can come in super handy for men as a way to ensure their safety while still providing them with some nice styling. We offer medical necklaces, alert bracelets, watches, key chains and more. The vast majority of the products we sell on StickyJMedical are engravable. We offer two styles of engraving. One is done via laser and the other style is done with our traditional colorless etching method. Both provide a beautiful, yet legible appearance. For medical jewelry, we generally will default to laser engraving as it is more precise and is typically more legible, plus it allows for engraving more characters onto a small space. This is beneficial for persons with multiple disorders, medications, and emergency contact details to list.
For medical necklaces, we offer many different styles. Some include the standard cross medical symbol, some come with the widely known medical caduceus. We offer stainless steel, aluminum, sterling silver, gold, leather and more. Most of our necklaces have engravable pendants and are fashionable. Engraving can typically be applied to both the front and back sides.
Our medical bracelets for men selection is an incredibly popular choice when it comes to medical jewelry. We offer many different metals, styles, colors and shapes to accommodate any man and style. If your father has been diagnosed with Alzheimer's or dementia and is at risk for wandering, be sure to view our safety clasp bracelets options. These bracelets are outfitted with sister hooks and the benefit here is that they must be put on and taken on with two hands to ensure that did won't take it off on his own unnecessarily so as to keep him as safe as possible.
From everyone at StickyJMedical, we wish you all a safe and loving Father's day! Be sure to shop our site to find dad a gift he'll truly value.