Pets are truly the best thing since sliced bread, maybe even better! They bring us happiness when we find ourselves in our darkest, loneliest places. They keep us company when we need extra companionship. They continue to make each moment of our lives better just by simply being there. Plus, they're really really cute!
May is national pet month. So if you have a pet you adore, what better way to show you care than to ensure that they have all the safety necessities they need? At StickyJMedical, we implore all of our pet parents to get their babies custom engraved medical id tags. We offer a great selection of surgical grade steel pet ID tags which can be engraved with sweet messages on top of their unique health details and safety contact information. View our selection of pet tags which come in a variety of shapes such as dog bones and hearts. Even if your pet is microchipped, a custom engraved ID tag is still important, because it will tell medical professionals how to assist them if they have a unique health condition.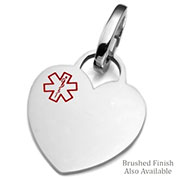 Another great way to show your appreciation for the special fur baby or babies in your life is to get yourself your very own personalized paw print bracelet! We just started creating beautiful wooden medical alert bracelets that on the front of the tags have a custom engraving of paw prints and other animal related patterns. They look fantastic, plus they're incredibly comfortable and there's sufficient room on the back to include medical safety details. Be sure to shop our site to see our latest original designs of personalized gemstone and wood adjustable macrame bracelets. We've chosen stones to match which are said to be effective in aiding tranquility, peace, and harmony.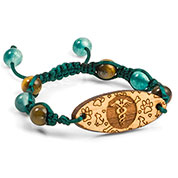 We hope you enjoy National Pet Month as much as we do and we look forward to continually providing more great pet ID tags and medical jewelry for all.