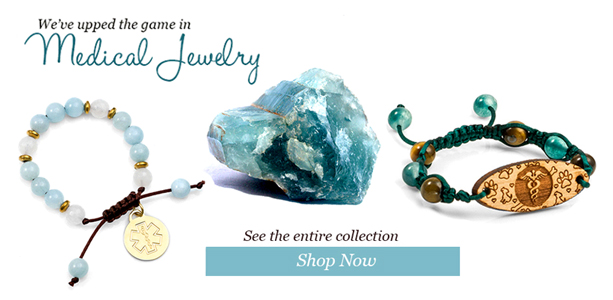 Inspired by our love for mother earth and our desire to create a unique style for our customers which provide comfort, safety, and style, we've created a brand new line of gemstone medical alert bracelets which are sure to rock your world. Each bracelet is handcrafted on site in our St. Petersburg, FL facility. Most of these new designs come with a plaque which allows for custom wood engraving. We carefully selected wood which is sustainably harvested by the Amish and provides durability while at the same time rendering a pleasing aesthetic. Thoughtfully included are natural earthen gemstones which maintain a range of healing properties to aid in peace and tranquility, plus, as an added bonus, they're incredibly attractive to look at.
To provide you with more details and looks at our new medical alert bracelets, I've put together a short list of my top three new medical id bracelet designs.
1.Calm Waters Adjustable Beaded Medical Bracelet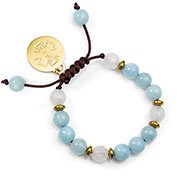 This medical ID bracelet has quickly become my favorite design. I love wearing it, because it is beautiful, plus it feels nice. I enjoy tracing my fingers across it throughout the day and I like how comfortable it fits around my small wrist. The charm is so light in weight that I do not even realize it's there. I've worn it out amongst friends a few times now and have received a nice handful of compliments regarding it too.
2. Bone, Dogs, and Harmony Medical Alert Bracelet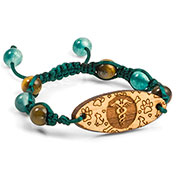 For a stylish bracelet which shows off your extreme love for dogs, but also provides safety in case of a medical emergency be sure to shop our new bone, dogs, and harmony medical id bracelet. This bracelet is crafted with evergreen macrame braid plus real tiger's eye and jade stones to allow for the utmost in comfort.
3. Calming Mandala Adjustable Beaded Medical Bracelet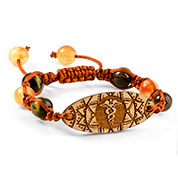 Our calming mandala bracelet has a unique lotus flower design laser etched into the attached wood plaque and allows for custom medical alert engraving details on the back. This bracelet comes handcrafted with orange jade and soothing tigers eye gemstones which are said to create a peaceful feeling within.
We hope you love our new bracelets as much as we do! To shop our entire collection, visit our medical ID jewelry site StickyJMedical today.