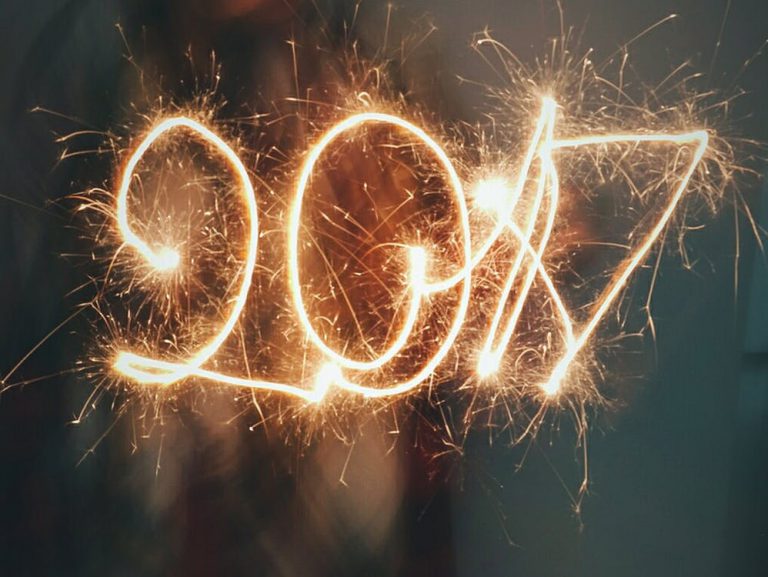 2017 was certainly a busy one for us here at StickyJ Medical ID. We moved our entire operation from our long-standing facility in St. Petersburg, FL to beautiful Seminole, FL. Throughout the year, we continuously added new products for men, women, and children that are trendy and offer the latest in comfort and safety. Below are our top five Medical ID's for 2017.
Lesly Rose Gold Medical Alert Bracelets for Women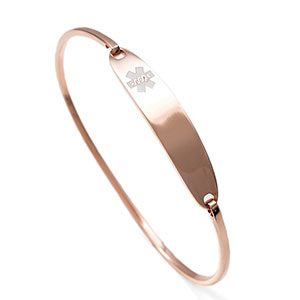 This rose gold medical bracelet for women has been a very popular choice among women due to its minimal style and elegance, plus it's comfortable and can be engraved front and back with up to four lines worth of medical information. Rose gold jewelry looks beautiful paired with other metals and a variety of outfits from casual everyday looks to more formal evening attire.
Classy Black Leather & Steel Medical Alert Bracelets for Men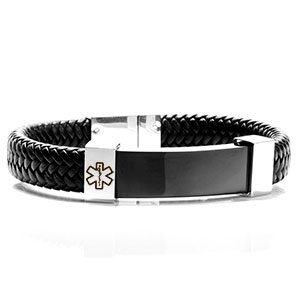 The second medical bracelet on our list is for men and comes with a black plated finish over surgical grade stainless steel. The band is black braided leather. The magnetic clasp makes it easy for anyone to put on and take off. It comes with a medical symbol engraved on the front and leaves space for customers to engrave the black plated medical tag on the front and back. Due to its elegant look and classic finish, it's a popular choice for men to pair it with a variety of their fashion ensembles.
Carnation White Medical Bracelet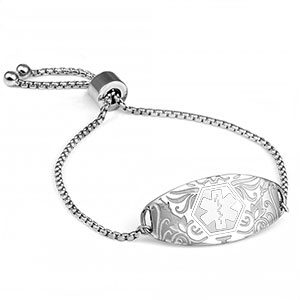 The third top-selling medical ID on our list is our carnation white medical bracelet for women. It has an easy on-off adjustable drawstring metal clasp It's made of stainless steel and comes with a beautiful floral pattern etched on the front of the medical ID tag. The back of the tag leaves ample space to engrave your custom medical details.
Brown Leather Adjustable Medical Alert Bracelet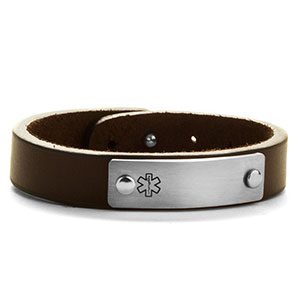 Our fourth best selling medical bracelet is made of supple leather and comes with a brushed steel medical tag. This bracelet is adjustable to fit a variety of wrist sizes and can be engraved with up to four lines of text on the front of the tag. This medical bracelet pairs nicely with a variety of day or night looks.
Women's Stainless Link Diabetic Bracelets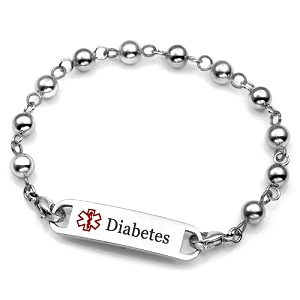 Our last, but certainly not least top-selling medical bracelet for the year 2017 is our beaded steel link Diabetic bracelet for women. It's a top choice due to its minimal style and attractive bead link design. The medical tag is attached with lobster clasps and gives customers the unique opportunity to interchange the medical tags with varying colors and styles. The medical condition Diabetes comes pre-engraved on the front and there's sufficient space on the back side to engrave health safety information.
There you have it, those are our top-selling medical ID bracelets for the year 2017. From our family here at StickyJ Medical ID to your very own, we wish you a healthy, happy and positive new year and suggest visiting our site to find amazing medical alert jewelry for yourself and your loved ones today.