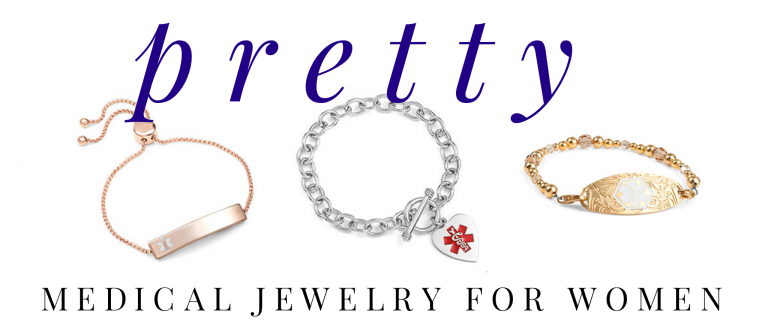 Need a medical ID, but don't want some ugly, heavy clunk of metal? StickyJ Medical ID's got you covered! Our quality selection of medical ID bracelets for women can help keep you safe and help you to glam up your style at the same time!
Think Glam, Think Gold! – What's more glamorous than gold!? We carry a quality selection of engravable gold medical ID bracelets for women ranging from pieces that couple gold ID tags and leather bands, to rose gold bangles to 18k gold choices with a polish and a shine to stand out. Our gold medical bracelets can be personalized with life-saving medical details and emergency contact information. If you've selected one of our gold minimalist bracelets – you may want to utilize the free wallet card we offer and on your medical bracelet – have the phrase "see wallet card" engraved on the back and include your medical condition on the front. Our 18k gold plated bracelets are a great choice if you're looking for a sturdy bracelet that will last you for years.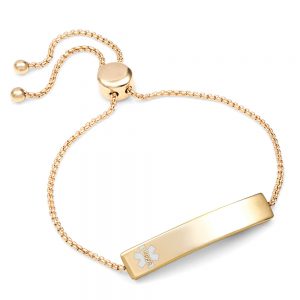 Sterling Silver for a Polished Finish – Our sterling silver medical ID's typically come with a medical alert symbol on the front medical tag either left or right justified. Sometimes they'll be red, sometimes they'll have no color. The red alert stands out more for those who are concerned your medical bracelet won't be recognized as such. If you're looking for a glammed up sterling silver piece – we suggest browsing our selection of high polish toggle charm bracelets or our vertical bar necklaces. Both are lovely and look fabulous with a wide range of outfits.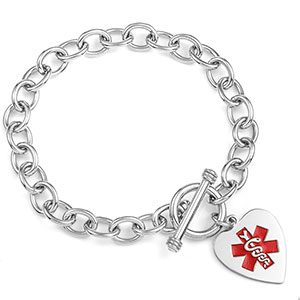 Charms and Pendants Oh My – StickyJ Medical ID has an entire section of jewelry dedicated to medical charms and pendants. Choose from geometric shapes, bar pendants, ovals, circles, squares and more! Our dainty gold medical ID charms make for elegant selections for a whimsical, light and lovely look. Ordering a medical alert charm to add to a bracelet you already own is a cost-effective choice for medical safety jewelry too.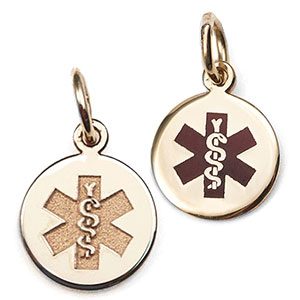 Beads and Natural Stones for Boho Chic Styling! – If you're the kind of woman who loves to express her personality with bold colors and fun gemstones – our beaded medical bracelets are an awesome choice for you! We've customized beaded bracelets that can be mixed and matched with a variety of our medical ID tags to create one-of-a-kind pieces you can wear with different styles each day of the week! Our featured Queen of the Nile turquoise and gold beaded medical ID bracelet below looks fabulous with flowing blouses and skinny jeans.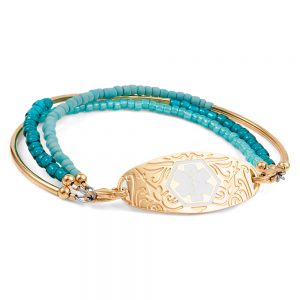 Stacked and Wrapped Leather Medical ID's – Some of our most recent additions to our medical alert bracelets for women collection is our leather ID's. You'll find pieces with multiple leather bands which were created to appeal to anyone that enjoys the "stacked bracelet" look. If you want to stack your medical bracelet with your own accessories, there are slender black leather bracelets that'll do just the trick.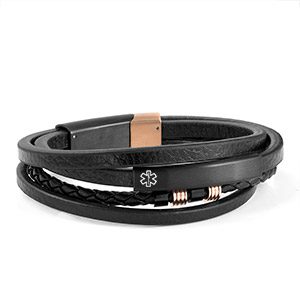 Our options for pretty medical ID bracelets for women keep on growing. Visit our online shop to browse through our collections and to order your own medical ID that'll last you for years to come.