Amethyst- February Birthstone, rich history, healing powers?
"The February-born shall find sincerity and peace of mind, freedom from passion and from care, if they an amethyst will wear." (author unknown)
Fun Facts:
Amethyst is very well known — from ancient times — as a sobriety stone.
1. The word 'amethyst' comes from the Greek word, 'amethystos' or 'amethystus', which means not intoxicated… commonly known as 'sober'. The ancient Greeks and Romans would drink wine from goblets made of amethyst to believing it would prevent drunkenness. Due to its purple hue, some ancients would even grind the stone into their wine to dull its effect while retaining the red / purple color.
2. Amethyst is a quartz stone. Matter of fact, it's the most valued member of the quartz family. Amethysts must be purple, but can vary in their purple tint. A variety of purple shades is acceptable including lavender, lilac, and mauve. The most coveted, highest quality amethyst is a rich medium purple with rosy colored flecks. Properties, colors, and varying textures change depending on where the stones are mined.
3. The most common locations for the gem are Brazil, Uruguay, and Africa. Amethysts can also be mined in Canada, South Korea, Mexico, Russia, and the USA. Russia is believed to contain the highest quality amethysts.
A 9 foot cavern deep in Maine, back in 1993, was found containing more than a TON of amethyst crystal.
4. On the Mohs scale of hardness, where diamonds are ranked 10; the amethyst is a seven.
5. The amethyst is reported to be the gemstone for those who have the Aquarius astrological sign. It's believed by some that by wearing these prescribed gemstones you can overcome the obstacles in your chart.
Healing Properties
Amethyst is one of the more commonly used stones for meditation and calming practices. These are said to provide peace, patience, and balance to emotional, spiritual, and physical aspects of a person.
On a strictly physical level, the amethyst has been reported in mystical lore and healers (of the non "Westernly" Doctor variety) to ease symptoms of addiction withdrawal, insomnia, help headaches, even said to strengthen the immune system!
There are also those who've said that the stone has helped them manage the symptoms of diabetes, endocrine system problems, asthma, phobias, menopause, chronic fatigue, arthritis, immune system deficiencies, fibromyalgia, circulatory system issues, and PMS. Amethyst is believed to prevent miscarriage, promote general healing, and provide pain relief.
Amethyst Jewelry
Historically Amethyst jewelry was worn only by royalty or those of high social stature, but today we can all feel like we have noble blood!
Whether you're choosing to wear amethyst for its healing purposes, as your birthstone, or just because it's such a beautiful stone – there are so many dazzling options for amethyst jewelry.
Here's just a taste of what StickyJ has to fulfill your amethyst aspirations: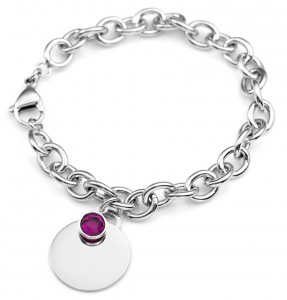 Be charming and classy with an amethyst charm bracelet. Add a medical symbol to keep yourself safe while being discreet. Use the gem stone's healing elements to ease the struggles of living with a medical disease. Add this charm to a pendant to keep it close to your heart using the version with a lobster clasp.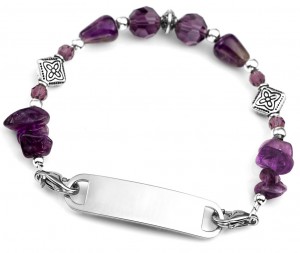 The Amethyst women's beaded bracelet lets you keep a level and calm head with beautiful stones wrapped around your wrist. Make it as unique as you by adding custom engraving to the plaque. A saying, name, or even a symbol makes this bracelet all your own.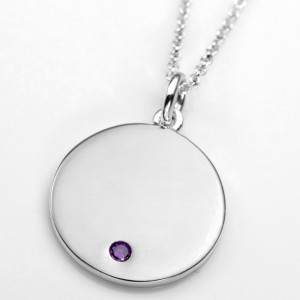 Engrave your baby's footprints on this amethyst pendant for the best new mommy gift. If you're a pet parent, we can do paw prints too! Just a simple date can give you an elegant simple look.
We've got Amethyst yes we do; We've got Amethyst how about you?! Careful shopping, you may become intoxicated with shopping delirium.