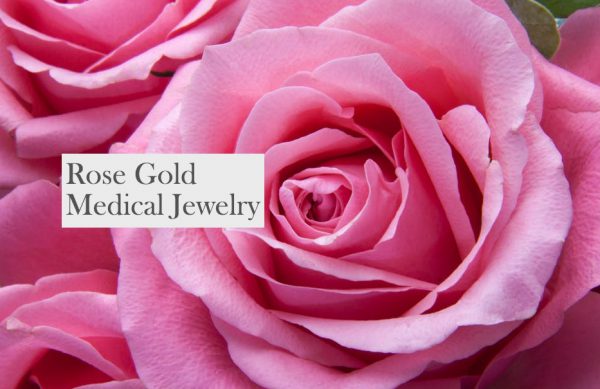 With the use of modern technology –mainly the internet, it's easy to keep up with modern trends. Because of this, here at StickyJ Medical ID, we do just that and we'd like to highlight one of the more popular trends at the moment — rose gold jewelry!
Let's talk about the composition of rose gold briefly. It's made up of three differing metals. 75% gold, 4% silver, and 21 % copper give rose gold is gorgeous pink polished look. Rose gold can be engraved with traditional methods that utilize an engraving needle or with newer methods that use lasers. For medical jewelry, laser engraving is typically preferred because it's more contrasting and will be easier for a first responder to read should the need arise.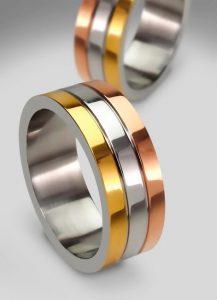 We've been seeing it grow into its own over the past couple of years and are learning that its popularity is still in full swing. It's a leading choice among celebrities and other fashion trendsetters. More and more couples are electing to purchase rose gold wedding bands and rose gold engraved necklaces for their bridesmaid's gifts. The votes are in and it's looking like rose gold will remain a top contender in the jewelry arena for quite some time.
Our rose gold medical jewelry line consists of medical ID bracelets, charms, medical tags and necklaces to fit a range of styles. The majority of our rose gold medical jewelry is designed to fit a minimal look, so they're small products which appear delicate and can be stacked and mixed and matched with your everyday jewelry.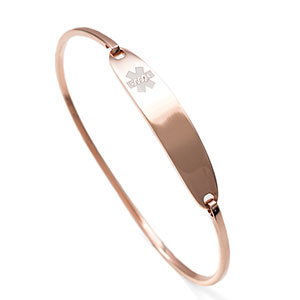 Our rose gold bar necklace, for example, is part of another trend, the bar necklace trend! So, this means you get two trends in one. Bar necklaces can be stacked in different sizes to create a new one-of-a-kind contemporary look. StickyJ Medical ID's rose gold bar necklace comes with a medical alert symbol on its front side, so it will still be recognized as medical jewelry in an emergency situation. Custom engraving can be added to both the front and back to ensure additional safety.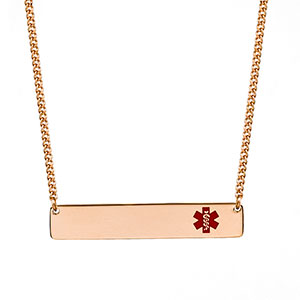 The rose gold medical ID tags we carry can be added to a variety of medical bracelets we carry in stock at all times. We suggest ordering a few styles of medical alert bracelets and medical tags so that you can interchange them and always have a great medical bracelet to match any outfit.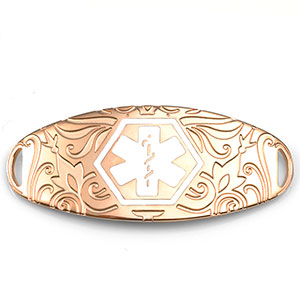 Shop with us today and keep up with the trends! Find beautiful rose gold medical alert jewelry to love for ages.