What are Safety Clasps?
Our safety clasp bracelet features a surgical steel clasp that requires two hands to fasten and two hands to open, making it almost impossible for someone to put it on or take it off by themselves. Safety Clasps make the perfect bracelet for loved ones who are a wander risk or should be wearing a Medical ID for their own safety. For anyone with Alzheimer's, Dementia, Autism, and Parkinson's – Safety Clasps make the perfect,
safest medical ID bracelets
.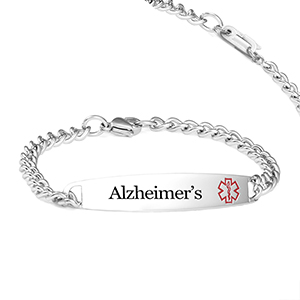 Who's at risk for wandering?
Wandering is considered anytime someone has difficulty finding their way home, trying to go somewhere at inappropriate times (like work after retirement), losing track of time,
Alzheimer's / Dementia
6 out of every 10 people with dementia will wander
Autism
Children with Autism are 4 times more likely to wander than typical children.
Autism statistics:
46% of kids 4-7 years wander
21% of kids 8-11 years wander
65% have close calls with Traffic
27% have a close call with Drowning
1/3 of children with ASD who wander are non-verbal or low communication reducing the chance of returning home
Parkinson's
Up to 90% of those with Parkinson's will experience sleep problems including insomnia, nightmares, and wandering at night. StickyJ Medical ID can customize a variety of safety clasp medical ID bracelets for persons with Parkinson's to keep them safe should they wander.
Getting your Safety Clasp Bracelet:
We offer safety clasps on a number of different medical bracelets and are expanding weekly! If you have a favorite metal bracelet that you'd like to add a safety clasp to, feel free to call, email or use the online chat feature of StickyJ.com and our awesome customer service staff will assist you with selecting a medical alert bracelet for you that fits comfortable, that works with your fashion choices and will provide you with years of safety.
Parkinsons.org, Everyday Health, The Sensory Spectrum