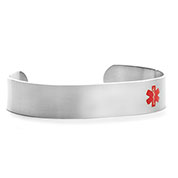 On the very same day I received my Medical ID Bracelet from Sticky Jewelry, it saved my life. I was going on a weekend excursion. I had taken my insulin, eaten supper, and made a stop at a local Wal-Mart to pick up some groceries. I only had a 20 minute ride left before I would reach my destination. But, while I was driving on the interstate, I could tell my blood sugar was dropping. I just didn't know how low it was getting until it bottomed out.
I tried to exit the interstate, but blacked out. Apparently, my car ran off the road, did a 360*, ran through an open fence, and landed in a ditch. I had my blood test monitor opened in my lap, but I was coming in and out of consciousness and didn't really know what was happening. Just then, a police officer arrived. He had been on his way to another call, spotted my car in the ditch, and stopped to check on me. I was scared, and crying. He saw the monitor, then noticed the MEDICAL ID bracelet on my arm which confirmed my medical condition. He tried talking to me, but he could see that I was NOT all there. So, he called 911 and an ambulance came right away. Thanks to my medical ID, I received the help I needed. Otherwise, who knows where I would be today.
–Donna H., Baton Rouge, LA.
If you have a similar story that you'd like to share please email your story to StickyJ